An issue with phone verification has been fixed
We had an issue with phone numbers on certain countries being unable to be verified due to restrictions on our SMS provider account.
We modified our account there and allowed sending SMS to the countries that had the issue and added others.
Now you will be able to grow to Tier 3 without problems. Still, if you attempt to verify your phone and get an error, please copy it or take a screenshot and post a ticket in our support area.
Trading tiers were mostly unrestricted, now we're enforcing them.
When we implemented trading in crypto/fiat markets, we implemented a tiers system and explained it here (note: trading limits have been raised since then).
The tiers system was set in place, but we didn't add limitations other than the trading limits.
That being said, a recent event made us step forward and enforce the tiers system in crypto/fiat markets to avoid trolls place bogus trades and affect an entire market.
New policy for crypto/fiat markets in the exchange
Tier enforcement will affect directly to the available payment methods for orders agains fiat as shown below: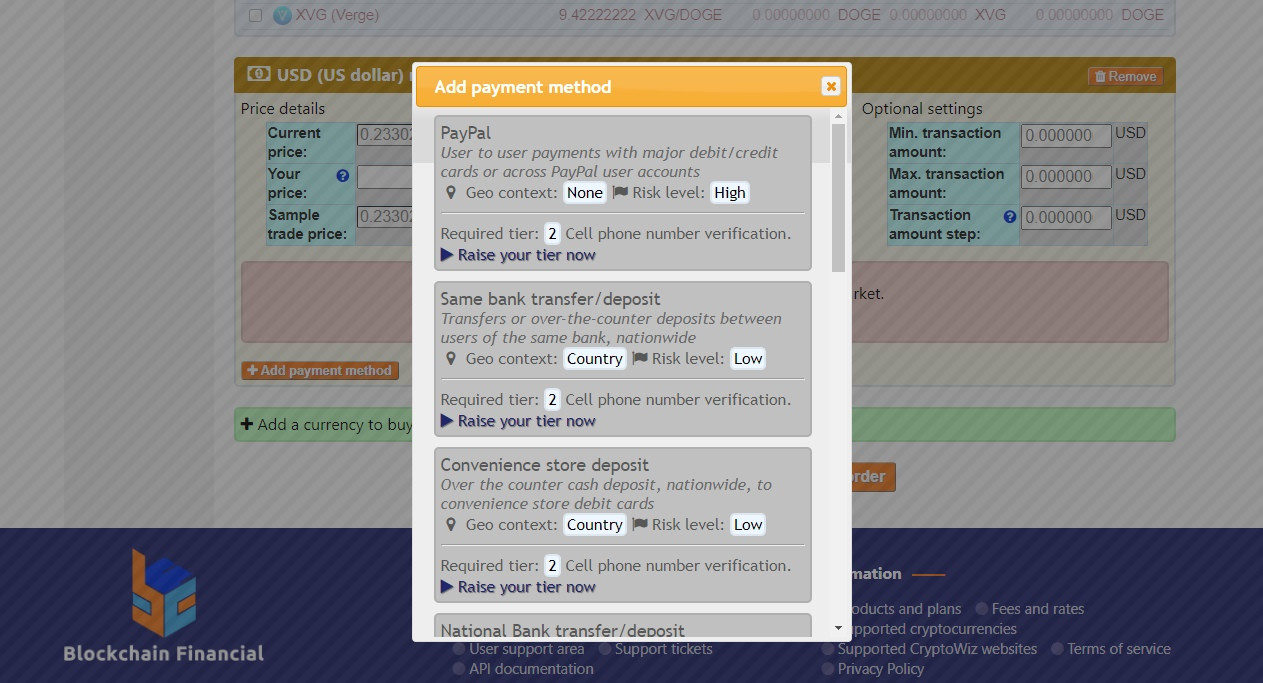 If you haven't gone above Tier 0 (the default), you will only be able to trade on crypto/crypto markets. You can attempt to add a crypto/fiat order, but you won't be able to specify any payment method for receiving cash.
Here's the list of tier requirements as it stands after the enforcement:
| | | |
| --- | --- | --- |
| Fiat payment method | Tier | Requirement |
| PayPal | 2 | Cell phone number verification |
| Same bank transfer/deposit | 2 | Cell phone number verification |
| Convenience store deposit | 2 | Cell phone number verification |
| National Bank transfer/deposit | 2 | Cell phone number verification |
| National money order | 3 | Id photo or scan |
| International bank transfer | 3 | Id photo or scan |
| International money order | 3 | Id photo or scan |
| Hand to hand cash | 4 | Street address verification |
| Gift card codes | 4 | Street address verification |
| Other online payment | 2 | Cell phone number verification |
| Other methods | 4 | Street address verification |
Note: tiers enforcement apply for order makers. Everyone can make trades on those orders, and the only limit will be the monthly limit of the tier they belong to.
Important: the tier requirements are subject to change without notice.
Why the enforcement?
After adding market rate updates from local trades in our previous updates rollup, someone decided to post a SVM/USD order for several thousands of dollars and teamed up with other users.
Now, as we mentioned in our updates announcement in February of this year:
Since the conception of Blockchain Financial, we thought on implementing a way for trade altcoins for fiat currencies through escrow services. Everything was in place, but there were a lot of things we needed to have finished in order to step forward on this feature. So, after several months of research and development, we are ready for release.

Crypto/fiat trading on Blockchain Financial works like many other trading engines that only serve as custodians for cryptocurrencies, while all fiat interchange goes out of our reach.

That being said:

When you post crypto/fiat orders, you need to specify the terms and provide potential customers with the payment methods you accept.
Payment methods can be electronic, over the counter, person to person, etc., but always out of our reach.
When you sell cryptos and receive fiat, you lead the flow and decides if the payment was received properly or not.
Counterwise, when you buy cryptos and pay with fiat, the other party leads the flow and decides if the payment was received properly or not.
All that means that is up to the users to define in the trading order if they've received the payment or not, because there is no way we can know if the trade is real.
Taking advantage of this impossibility, the offenders confirmed the trades without providing proof of it.
We were aware of this going to happen, but we were ready for it.
We rolled back the transactions, banned the users and the price indexes came back to normal after that.
Unwanted side effects
We had to cancel some genuine orders from several users, specially some with manually placed rates following lead of the offenders and other that were genuine but induced some errors in listings.
We also had to cancel orders against currencies other than USD that didn't make sense for the market they were posted on.
And we mistakenly disabled a handful of accounts that weren't part of the offenders group, but we took them back as soon as we noticed.
What comes next
There are a lot of crypto/fiat orders listed on a handful of markets. We'll leave them as they are at the moment, but since most order makers are Tier 0, they won't be able to do anything else but cancel them.
We'll give users a chance to go to a higher tier for some days, then we'll cancel all orders from users that didn't go up the tier required by their order payment methods.
A late addition to the exchange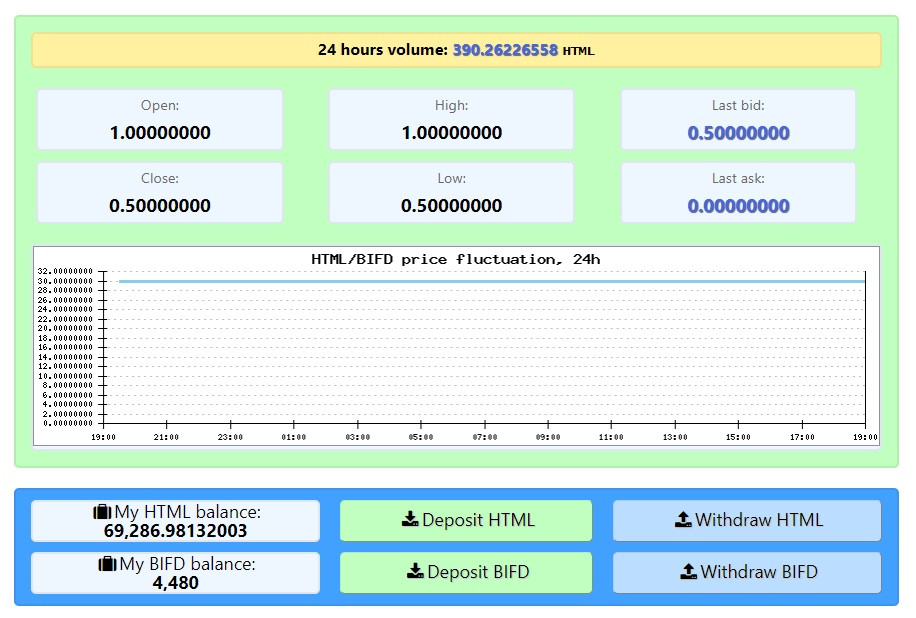 When you select a specific market on the exchange, some stats are shown above the listing.
We added two things to that section:
A chart showing the price fluctuation during the last 24 hours, and
Your current balances for the coins/tokens and shortcuts to the deposit/withdraw areas on the coin/token dashboard.
Withdrawals will soon be self-authorized
At the moment, when a user withdraws coins from their wallets, we receive a notification with the request, review the user's activity and, if everything sums up, we authorize it.
We've already denied some withdrawals by users that have shown unusual activity or weird behavior in our systems.
We used all that knowledge to make our withdrawals subsystem smart enough to allow immediate withdrawals from users that are flagged as safe, leaving the questionable ones to the decision of our admin staff.
We'll finish and test the new methods within the next days and post an annoucement when done.
Do you know you can set a label to Blockchain Financial?

Blockchain Financial has a system that lets users stick labels to other users as an alternative way to show their appreciation or discontent for the contents of their posts or their attitude when commenting.
Do you want to be part of the elite? Become a valuable contributor!