We've been working hard during the last weeks to release the greatest features batch so far, and we're excited to announce them!
User labels have been enabled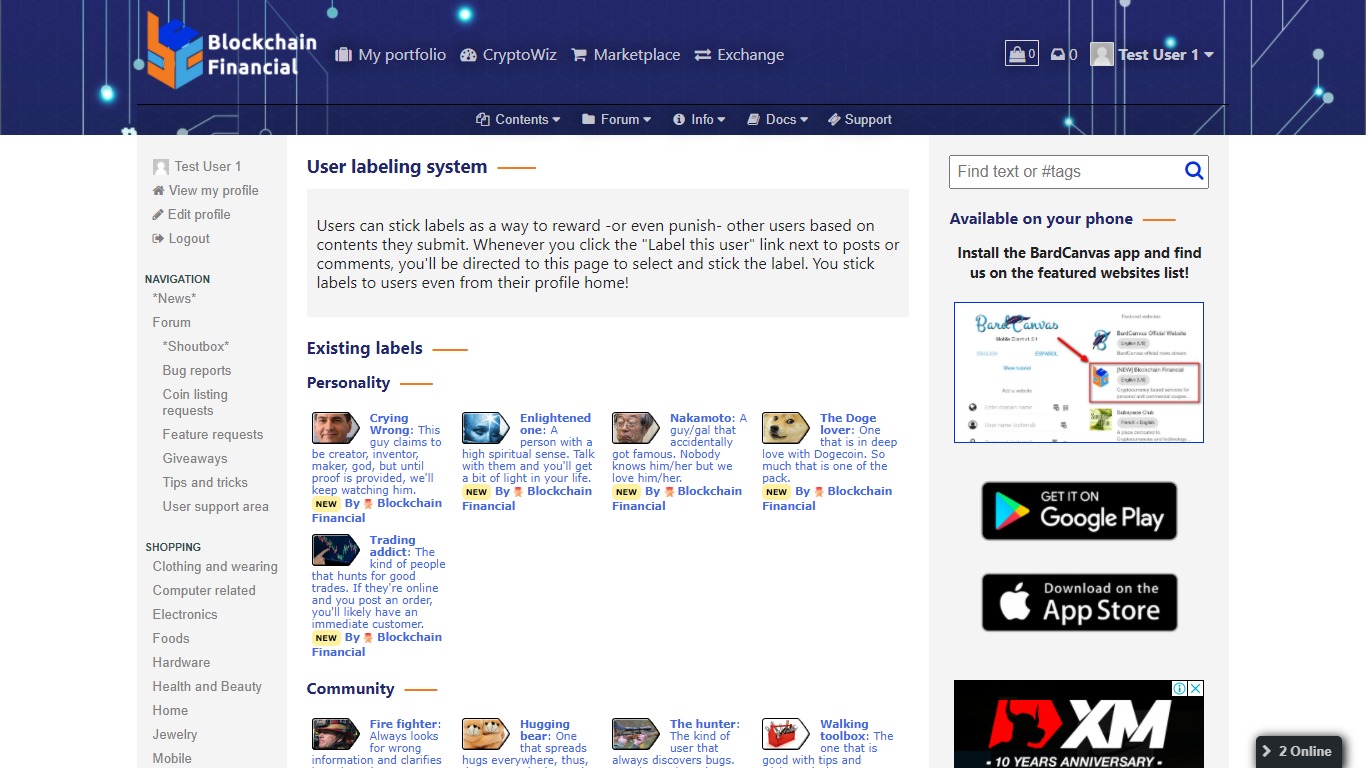 One of the killer features of the BardCanvas CMS have been included in our forum since we opened: the User Labels module; but we didn't dedicate some time to add some labels for users to play with.
This feature allows everyone to stick labels to users based on their personality or behavior... let's say you go into a forum post and you like or dislike a user on the comments section... well, you can stick a label to the user and that label will appear everywhere on our website:
1. Hit the link to stick a label on the user actions: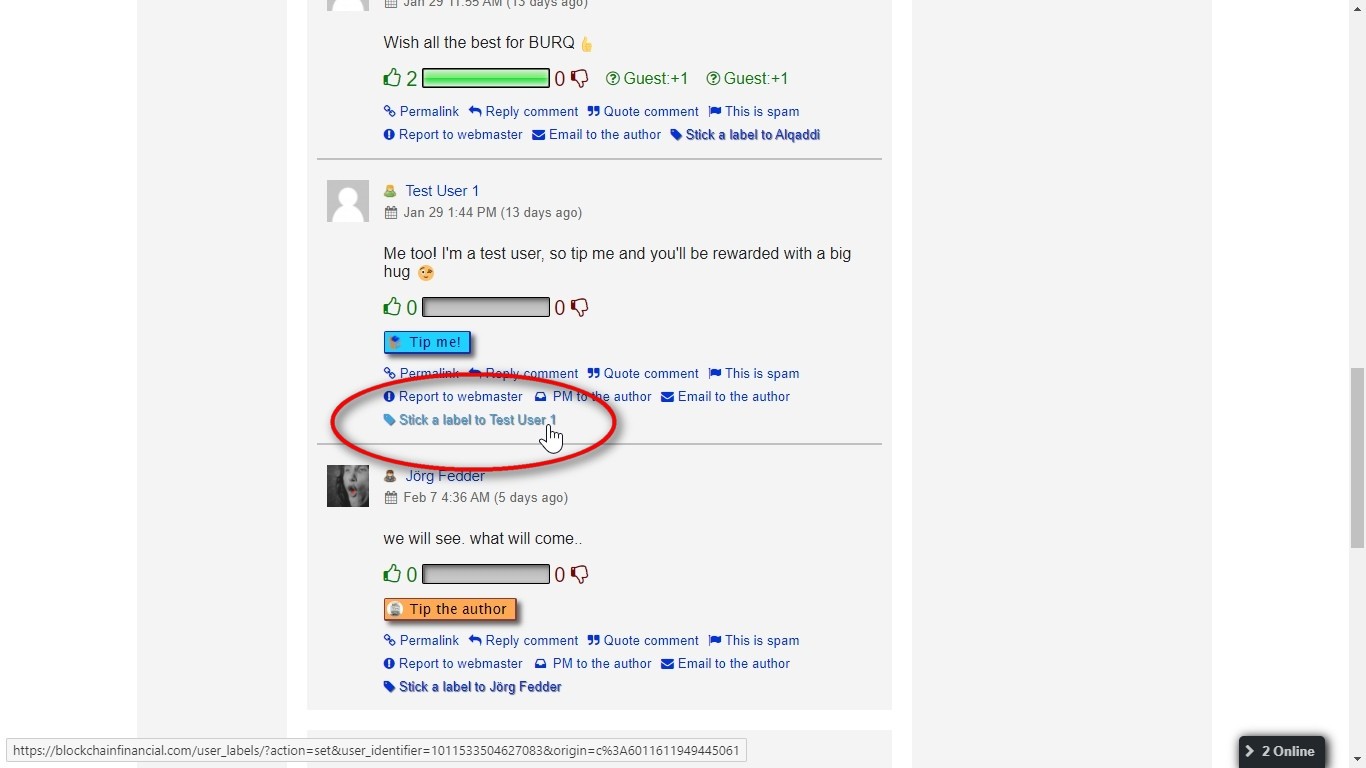 2. Select a label from the list: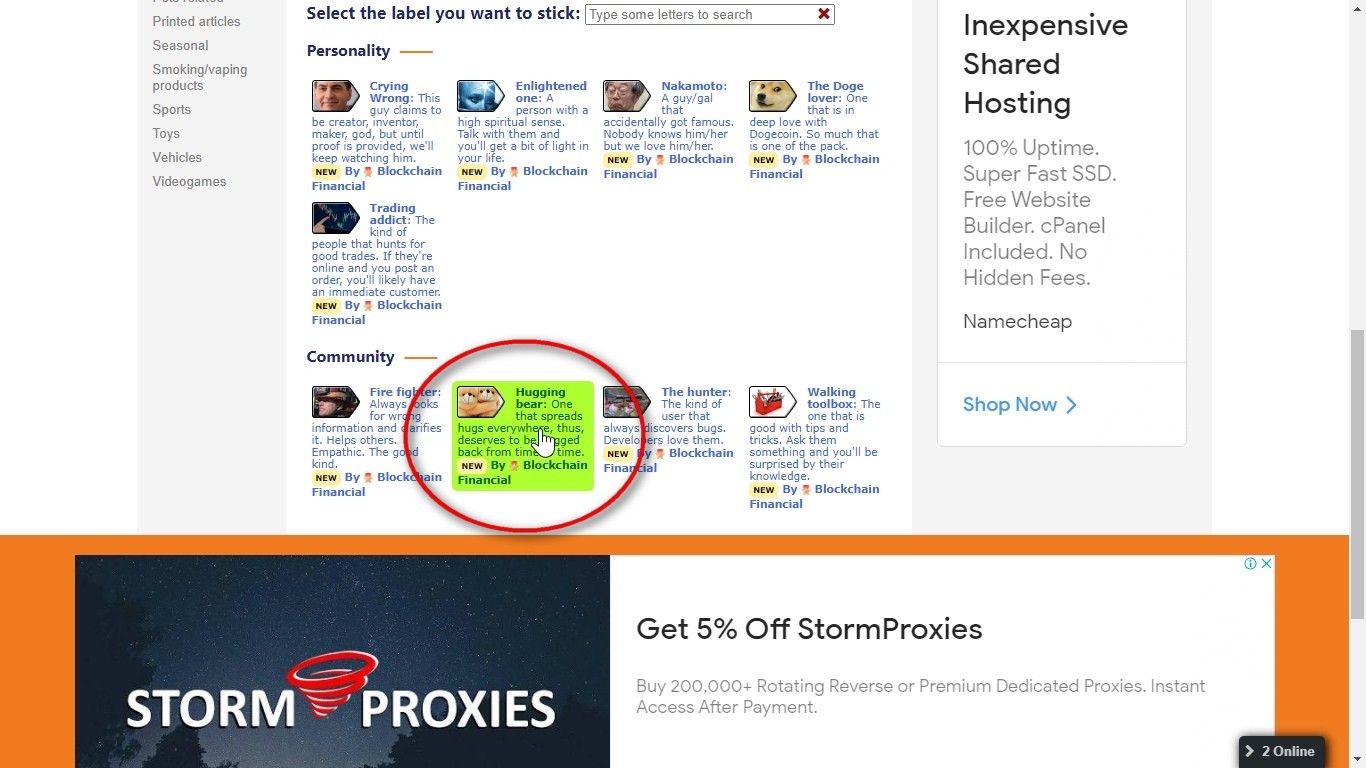 3. That's all! Label is sticked to the user!
Please check the rules on the "User labels" option on the Contents menu. Here.
Now, there's just an initial amount of labels there. We will add more as time goes by, and soon we'll post instructions on how everyone can contribute and post their own user labels for everyone to use.
User icons have been added
If you haven't noticed, there's a levels based system for user accounts, and though the vast majority of our users are "basic" users, there are some features bound to certain levels. So, in order to mark the differences and learn to recognize a standard user from a premium user or even a pest, we added icons next to the user names everywhere:
Level 0: 

Unregistered

Level 1: 

Unconfirmed

Level 2: 

Spammer

Level 3: 

Pest

Level 9: 

Frozen

Level 10:

Basic user

Level 100:

Premium user

Level 110:

Semi-pro

Level 120:

Pro

Level 150:

CoinMaker

Level 160:

Collaborator

Level 170:

VIP

Level 180:

Associate

Level 189:

System Helper

Level 200:

Editor/Moderator

Level 240:

Coadmin

Level 255:

Admin

Note that user level icons serve a different purpose than labels: icons identify users by level, whilst labels are rewards or punishments set by the community.
Two factor authentication has been added
We had this feature requested some time ago, and we finally deployed it. Here's how to use it:
1. Open preferences page, look for 2FA settings and hit "enable":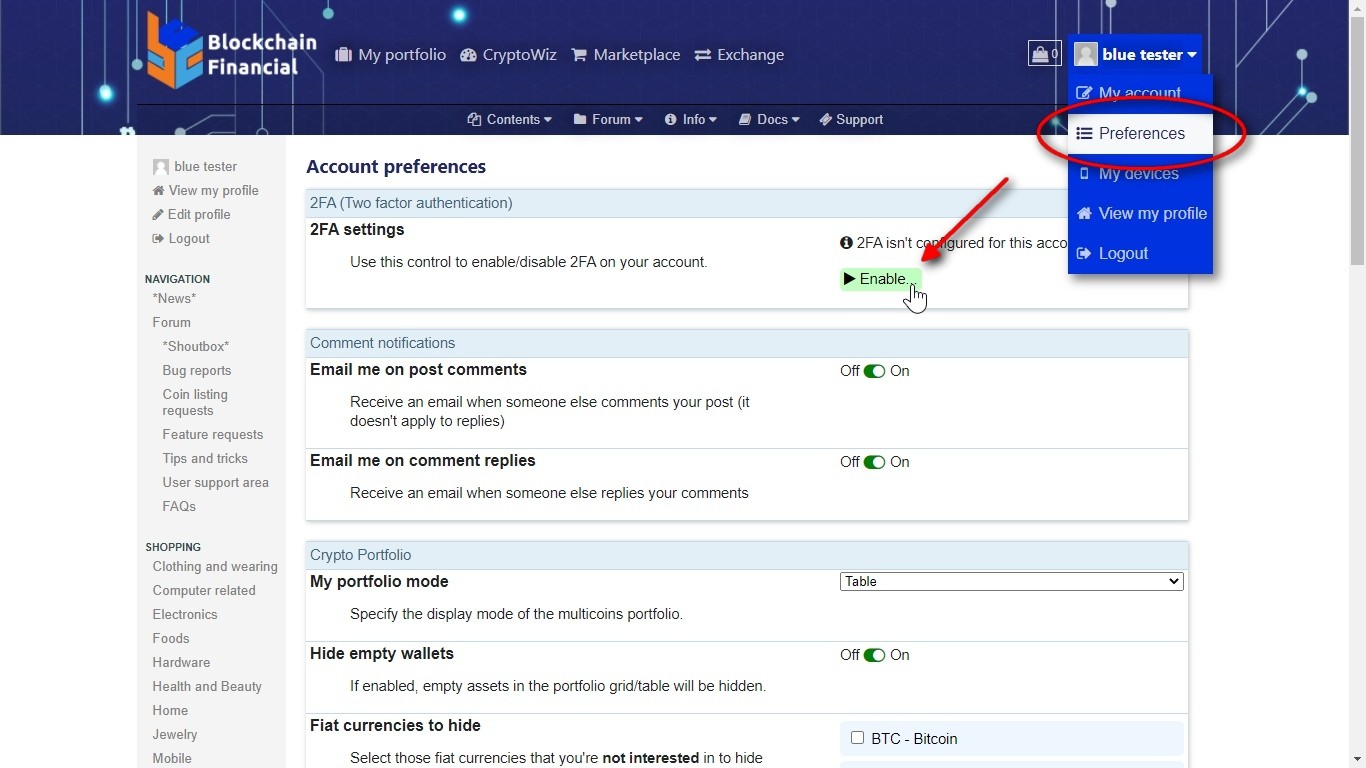 2. Follow instructions on the dialog and hit "save" when ready: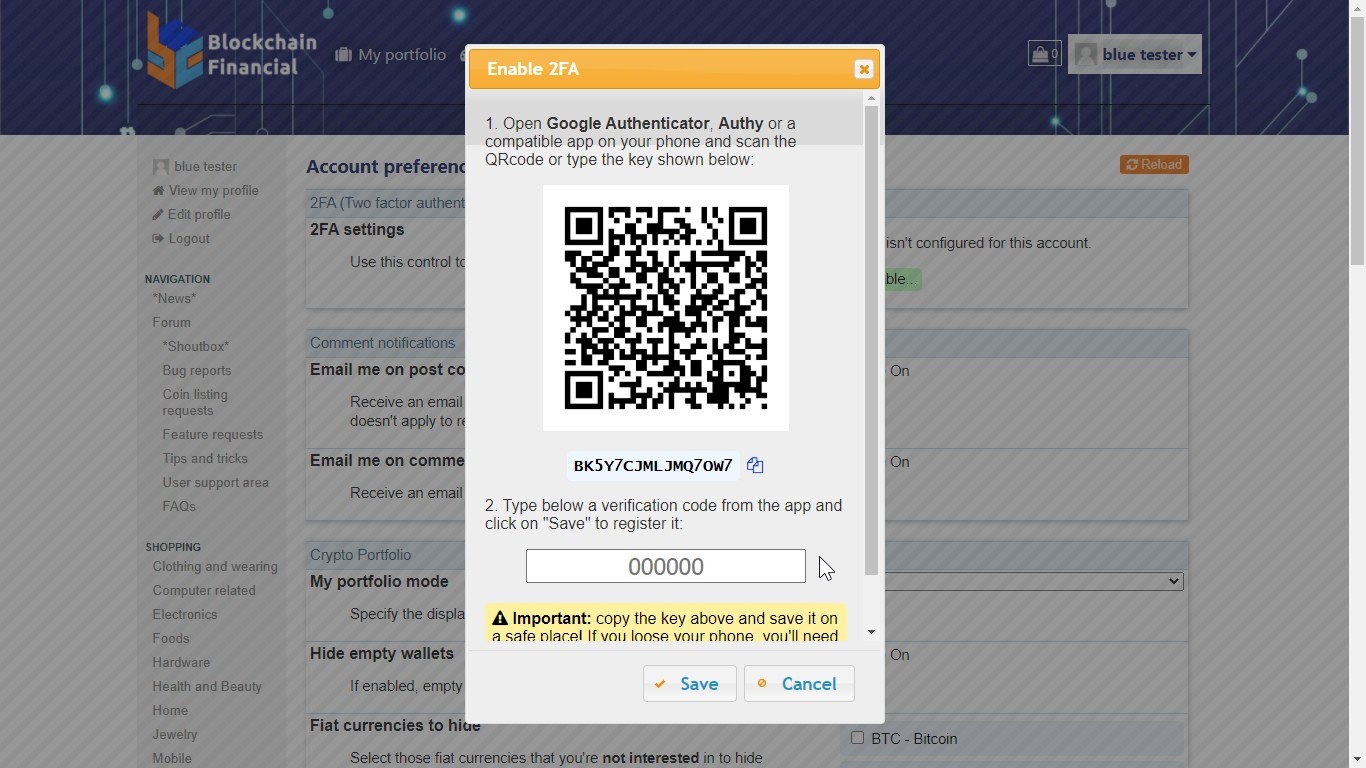 That's all! next time you login, you'll be asked for a code from your authenticator app.You can disable 2fa later on the preferences page: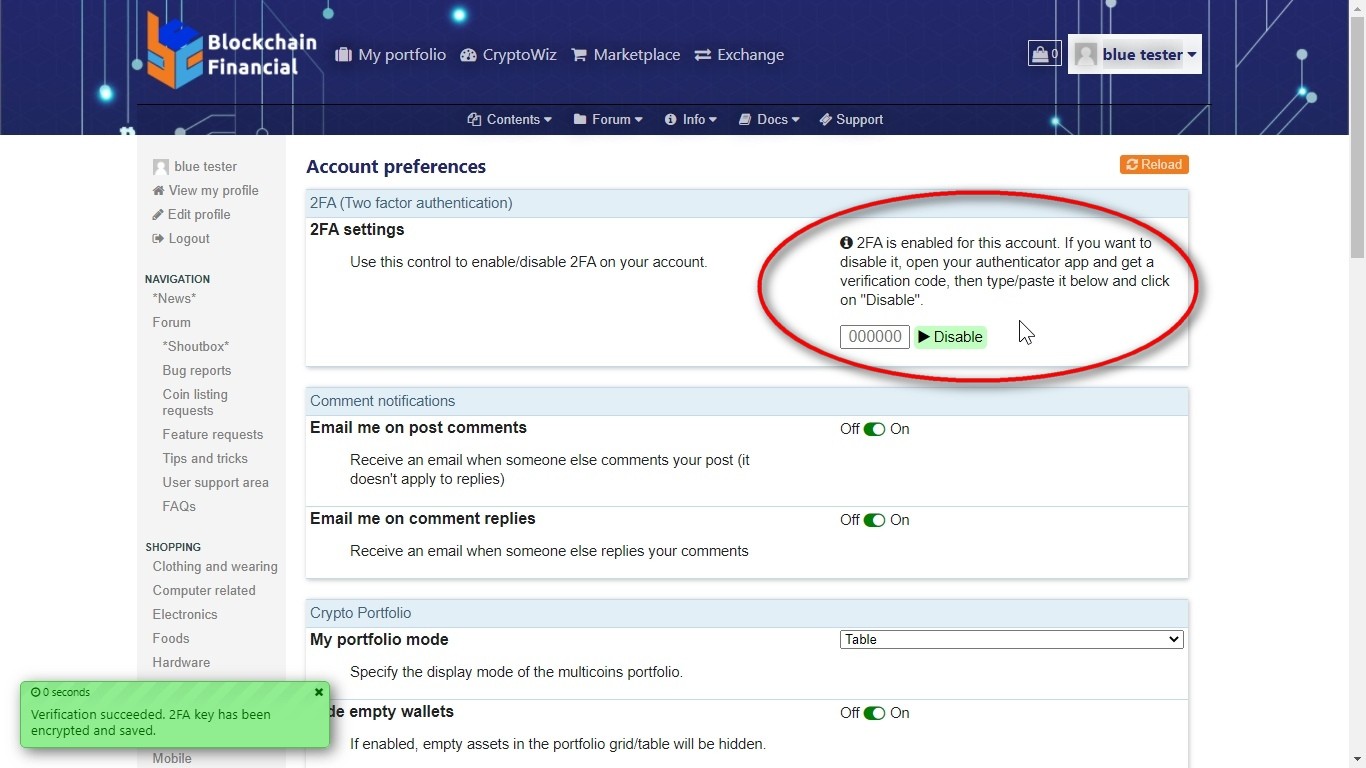 Just remember to save the secret key in case you loose your phone. You'll need it to reset 2FA.
The portfolio and CryptoWiz had several fixes and additions
Both modules received a lot of work, but most of it was merely cosmetic (with a handful of enhancements) and internal logic. Here the details:
Changes to the portfolio:
Implemented maintenance mode for wallets.
Added last block time to daemons monitor log, coins meta and management browser.
Revisited logic of crypto/crypto conversions on the ticker fetcher to include missing entries.
Added user fiat exclusions to price indexes and some cosmetic tuning.
Added sorting by last block to coins-info browser, raised page size and tuned table heading captions.
Reordered columns to match rows and added links to coin details pages on the price indexes.
Included pending fees into locked funds.
Fixed exception thrown when attempting to withdraw during cooldown.
Other internal additions too technical to show here.
Several enhancements to admin functions.
Changes to CryptoWiz:
Added security checks to improve dodging SQL injection attacks.

Added support for 2FA on widget login.
Other internal additions.
Now you can trade for fiat currencies on the exchange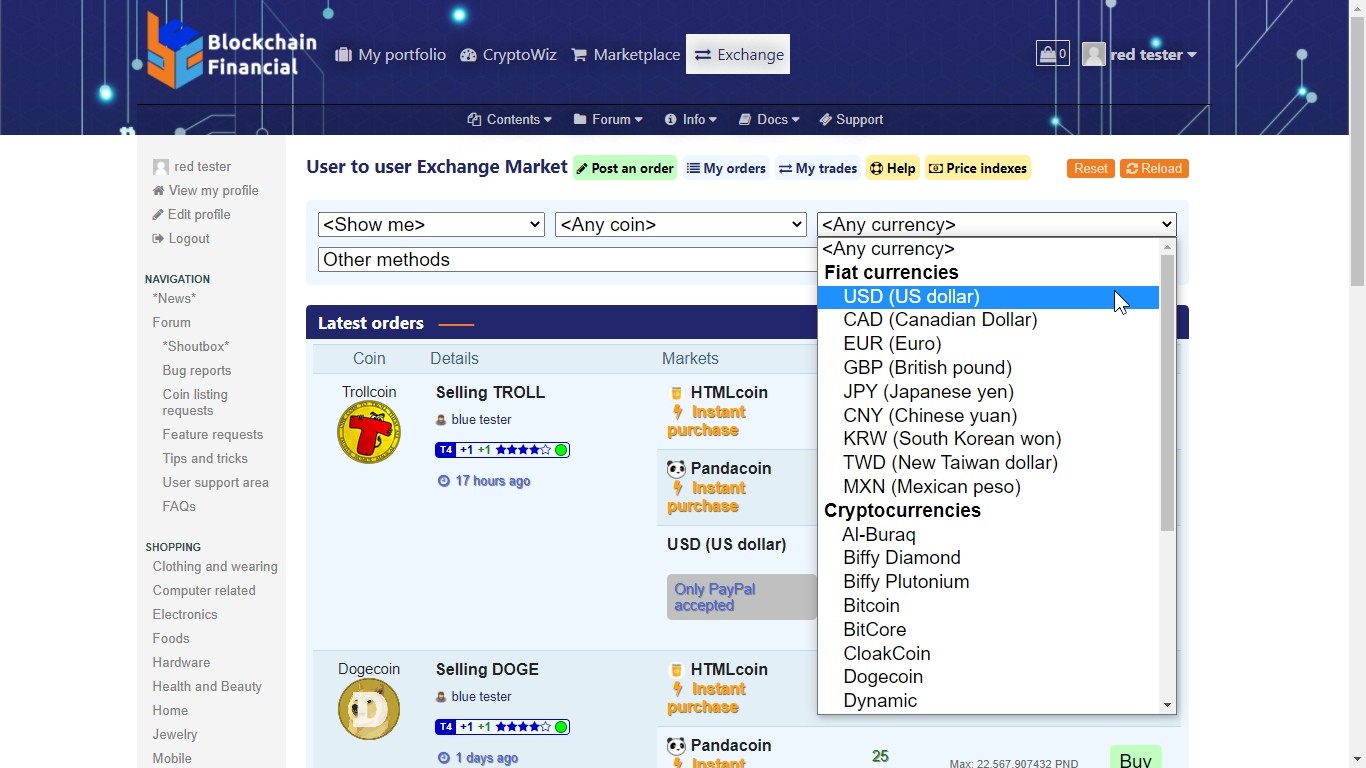 Since the conception of Blockchain Financial, we thought on implementing a way for trade altcoins for fiat currencies through escrow services. Everything was in place, but there were a lot of things we needed to have finished in order to step forward on this feature. So, after several months of research and development, we are ready for release.
Crypto/fiat trading on Blockchain Financial works like many other trading engines that only serve as custodians for cryptocurrencies, while all fiat interchange goes out of our reach.
That being said:
When you post crypto/fiat orders,

you need to specify the terms

and provide potential customers with the payment methods you accept.
Payment methods can be electronic, over the counter, person to person, etc., but always out of our reach.
When you sell cryptos and receive fiat, you lead the flow and decides if the payment was received properly or not.
Counterwise, when you buy cryptos and pay with fiat, the other party leads the flow and decides if the payment was received properly or not.
We added several payment method classes that you customize when you post an order. Some of them have requirements:
PayPal: User to user payments with major debit/credit cards or across PayPal user accounts.
Same bank transfer/deposit: Transfers or over-the-counter deposits between users of the same bank, nationwide.


Geo context required: Country.

Convenience store deposit: Over the counter cash deposit, nationwide, to convenience store debit cards.


Geo context required: Country.

National Bank transfer/deposit: Transfers or over-the-counter deposits between users of different banks within the same country.


Geo context required: Country.

National money order: Transfer using national remittance/brokerage services.


Geo context required: Country.

International bank transfer: Transfers across banks through wire, SWIFT, etc.
International money order: Transfer using international remittance/brokerage services.
Hand to hand cash: Person to person transactions within the same city/area.


Geo context required: City.

Gift card codes: Payments to debit cards on convenience stores.
Other online payment: User to user payments within a third party system, with/without cards.
Other methods: Anything else.
As you might notice, the requirement is basically a geographical context, which can be a country, a region/state or a city.
Crypto/crypto and crypto/fiat orders can be mixed
Let's say you want to sell 1000 DOGE for other altcoins AND some fiat currencies. You basically do the same as you usually do: specify the amount and check all the markets where you want to trade:
1. Set the order properties: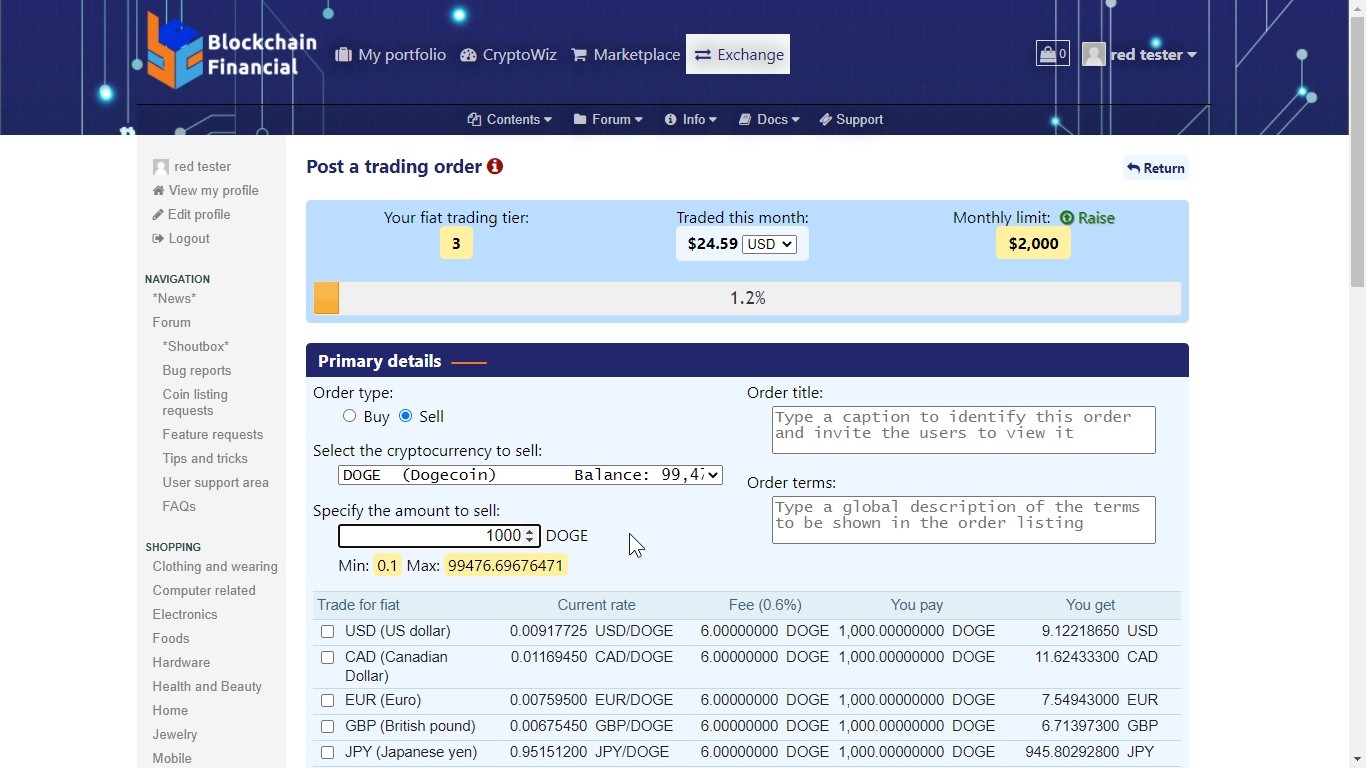 2. Select the markets: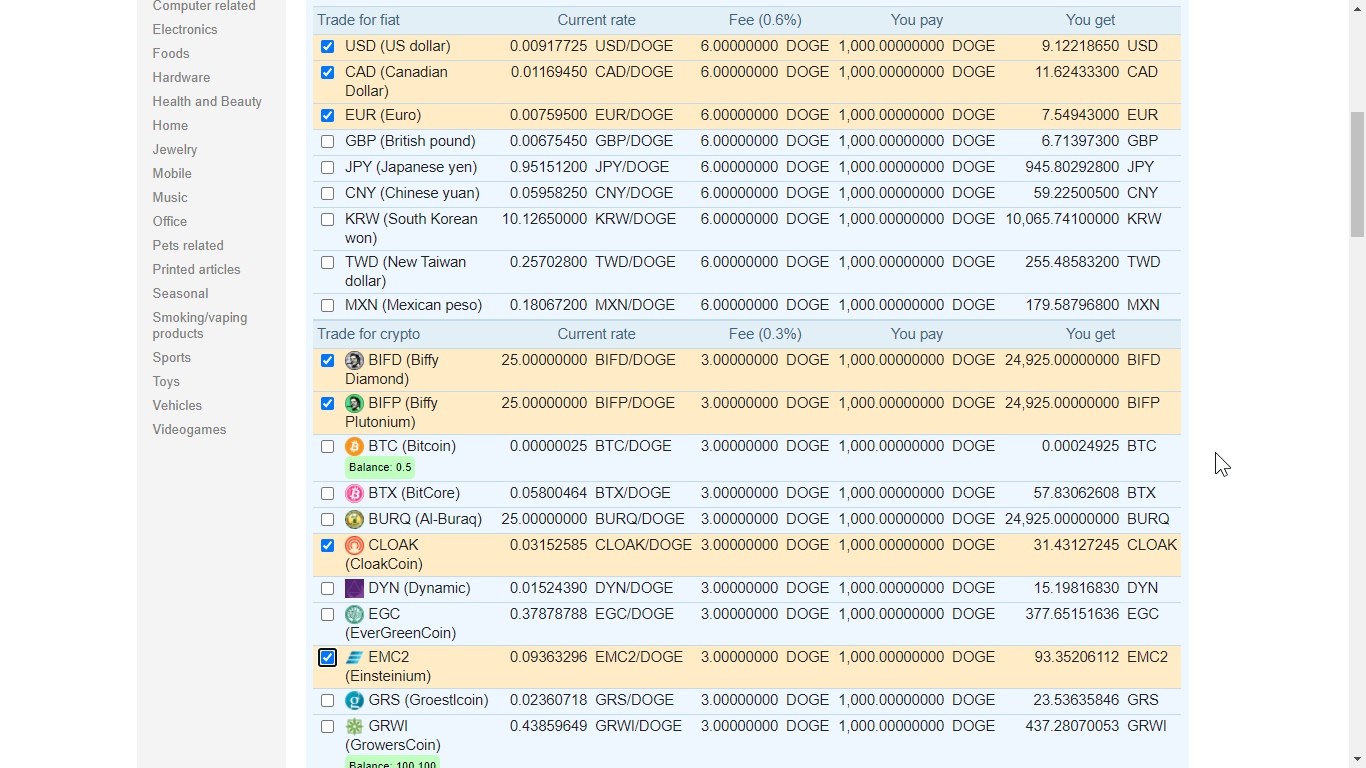 Now, on crypto/fiat markets, you need to specify at least one payment method for each market:
1. Scroll down to a fiat market details and hit "Add payment method":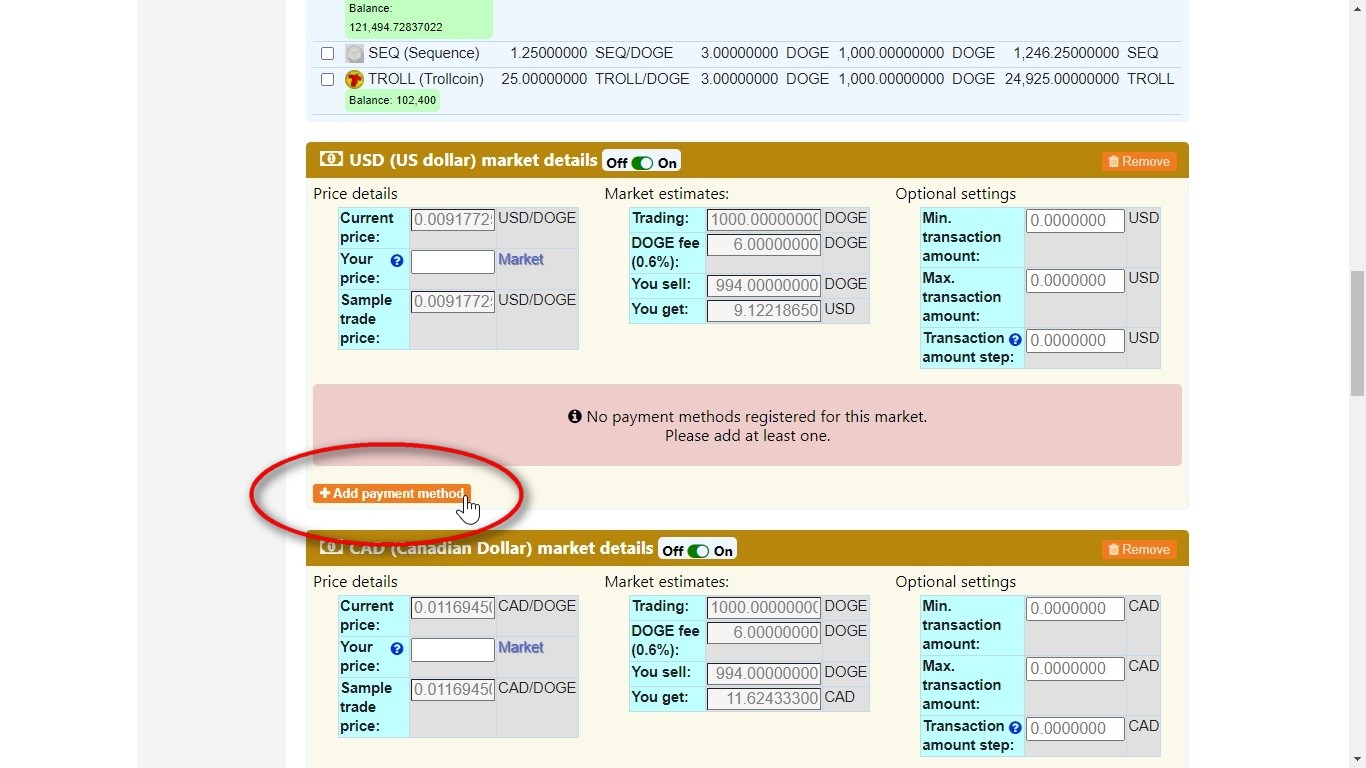 2. Select form the available payment methods from the list: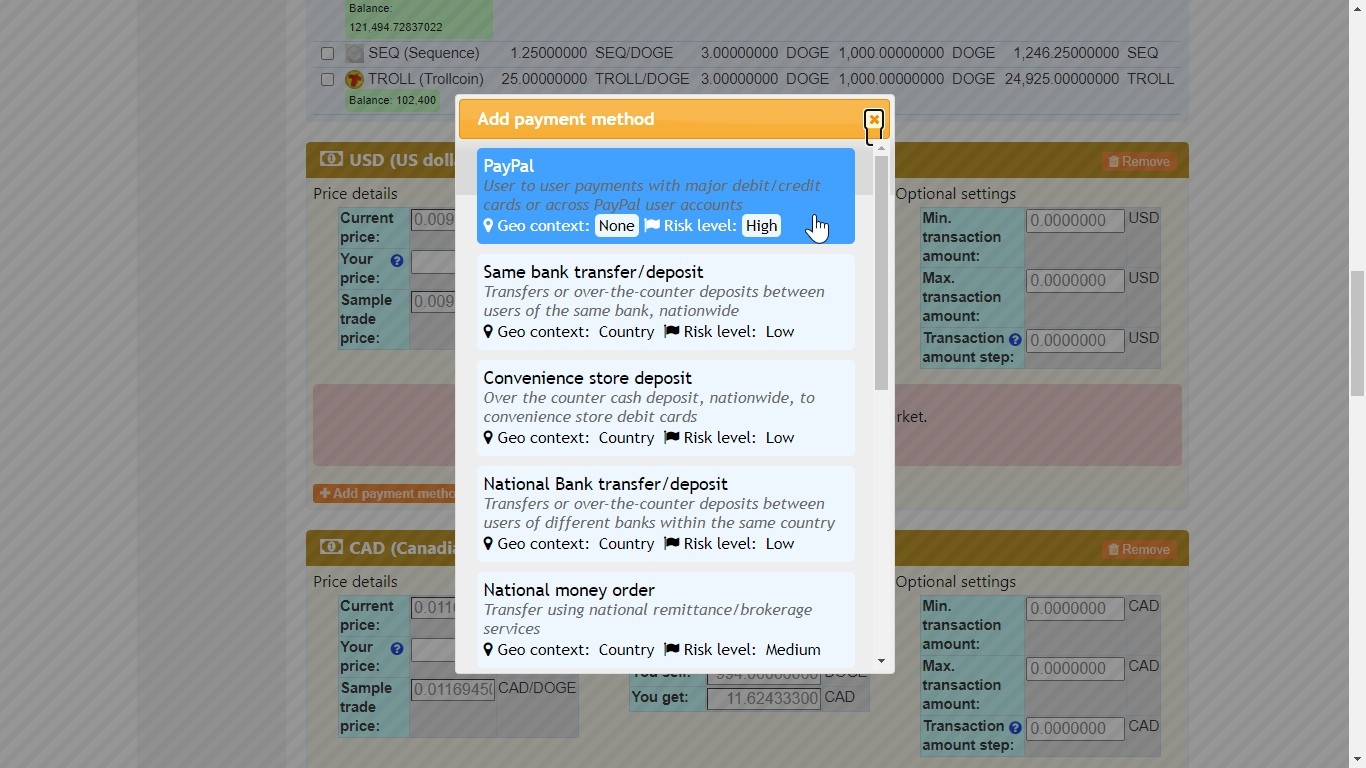 3. Fill the details: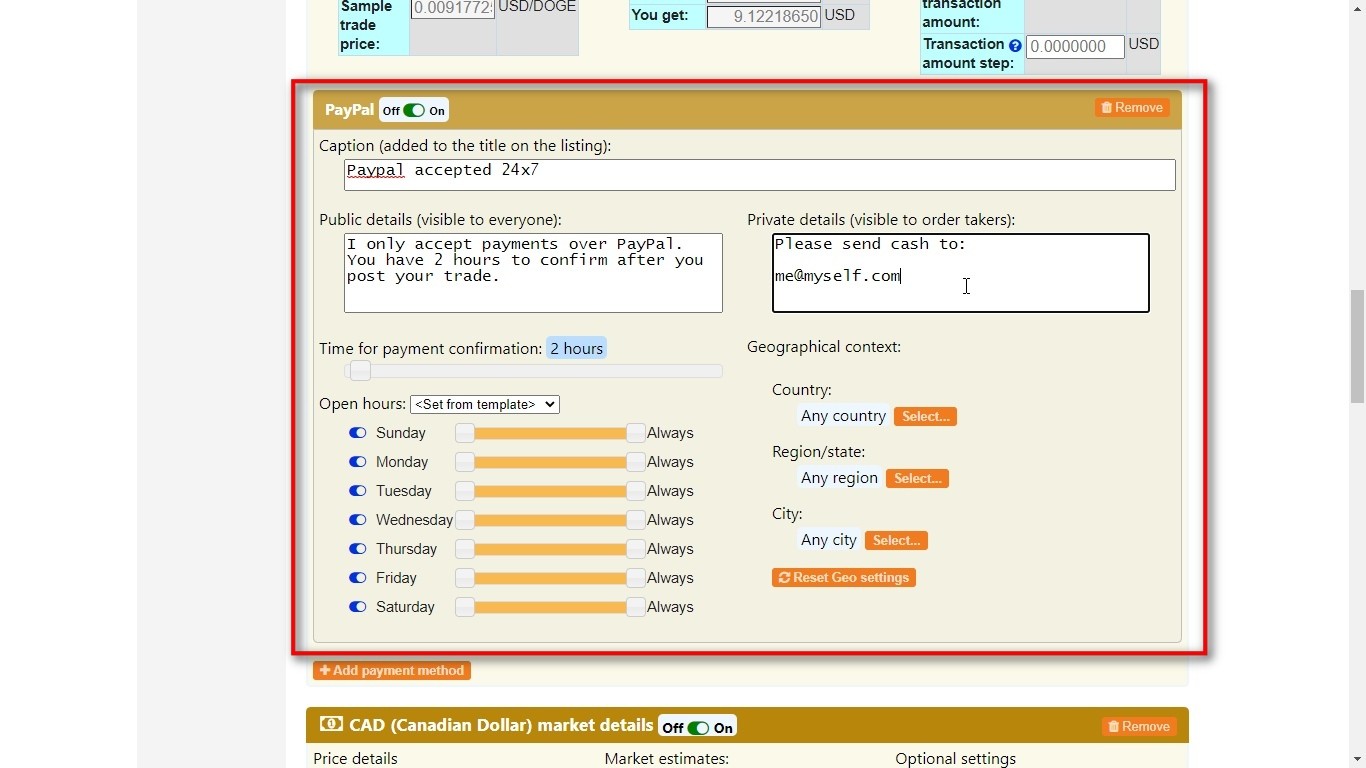 You can add as many payment methods as needed to each fiat market. Just make sure to fill all the pertinent information on the input areas and customize as needed.
The taking flow
Once you post an order, someone that wants to take the trade on one of your markets, let's say, USD, follows the next steps:
1. The customer clicks on "Buy" from the listings: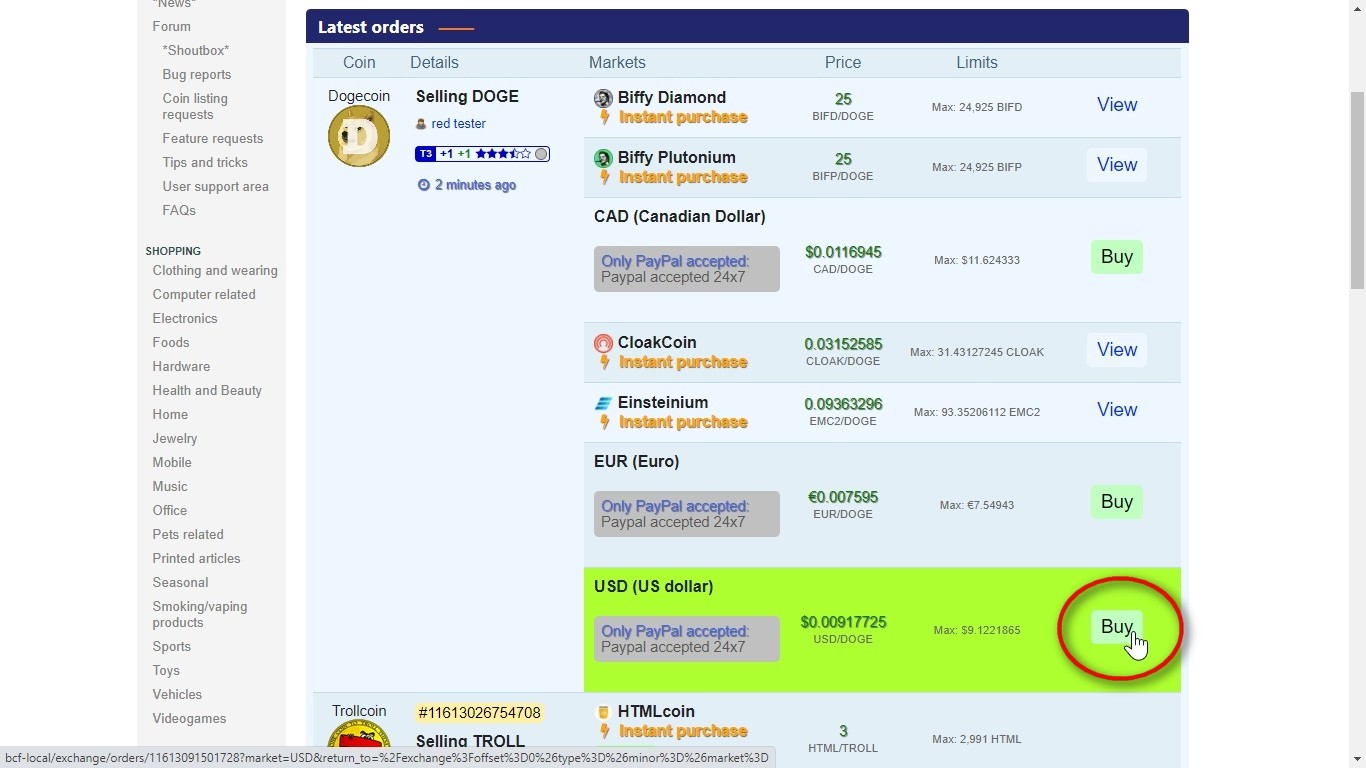 2. Then fills the form and submits it as trading intent: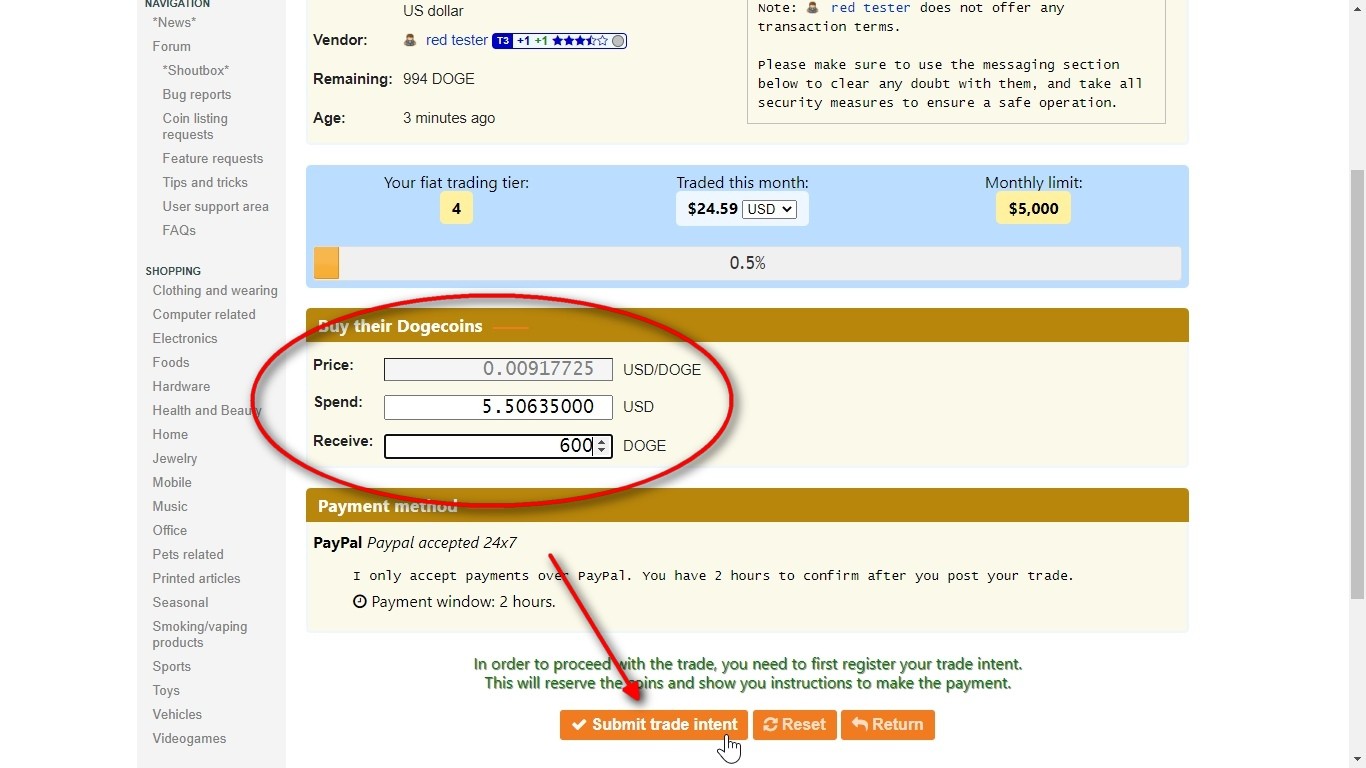 3. Both get notifications in the website and by email with details and a link to the trade, and the "open trades" flag is lit on the top menu: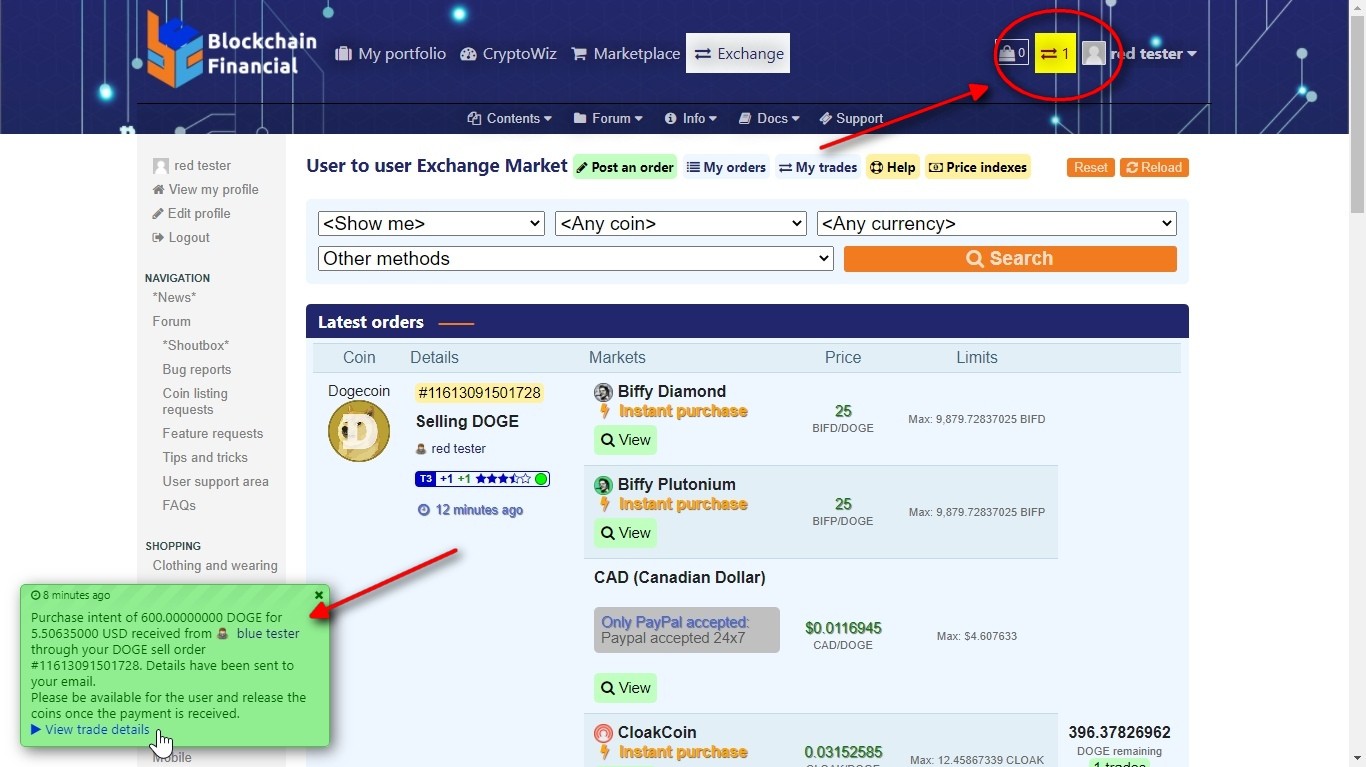 4. Depending on the payment type, the customer might need to notify you using the in-form conversation and mark the trade as paid: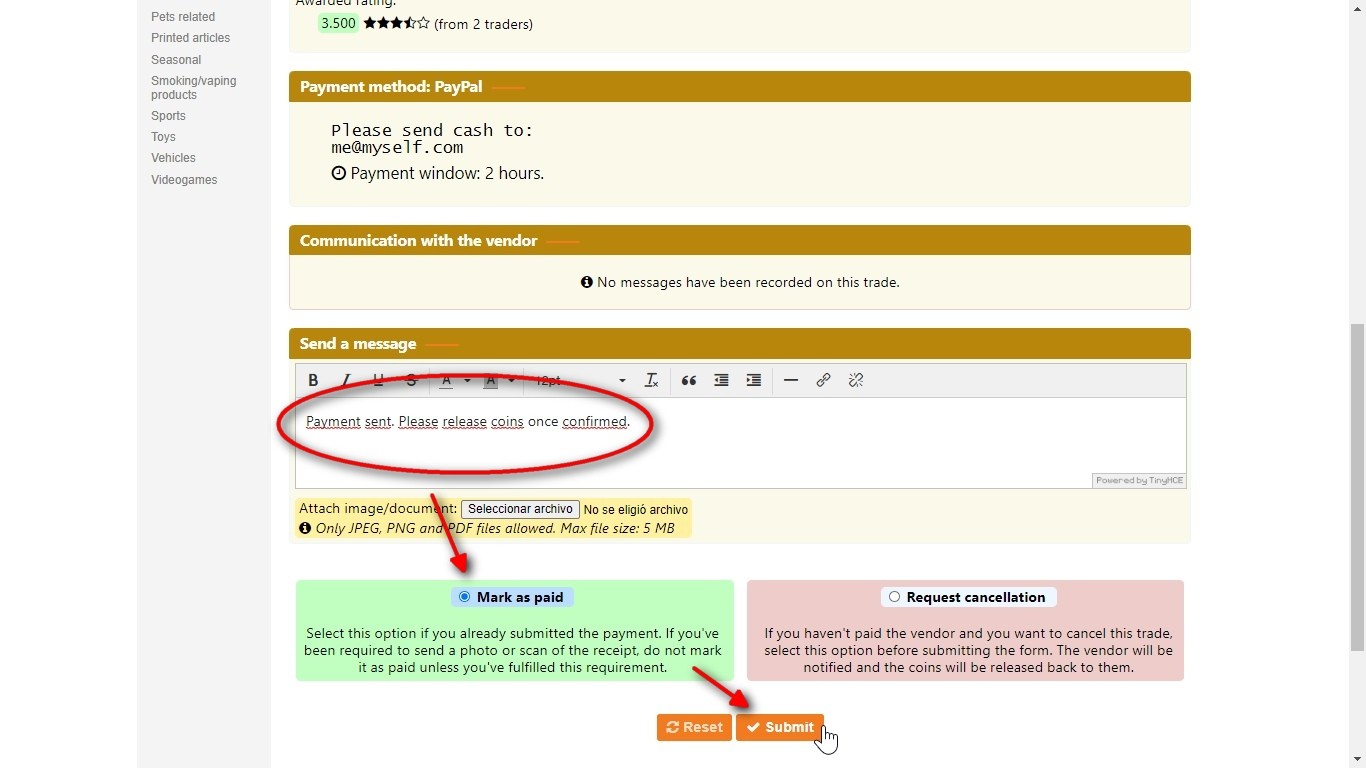 5. Once the customer submits the update, the trade is locked until you confirm the receival of the payment: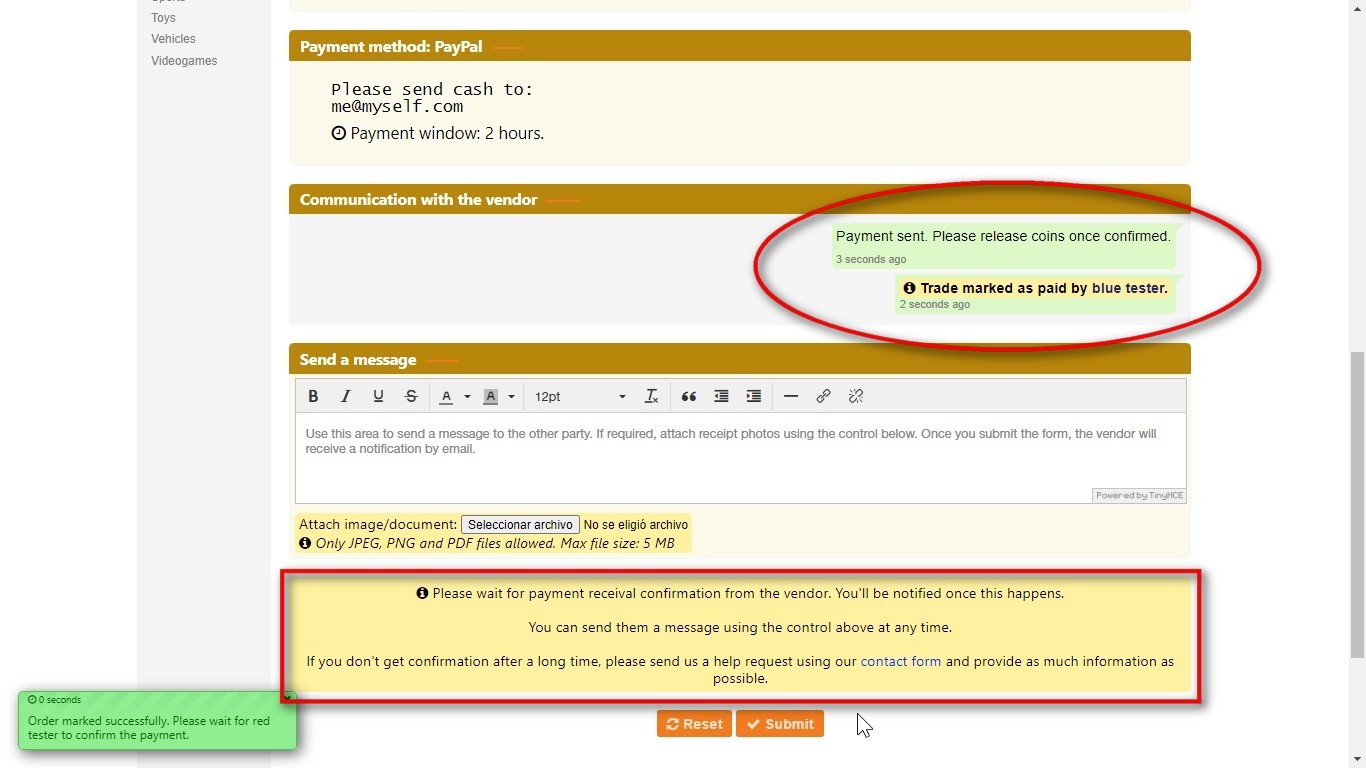 6. Once you receive the payment, you need to confirm it in-trade, sending an optional message: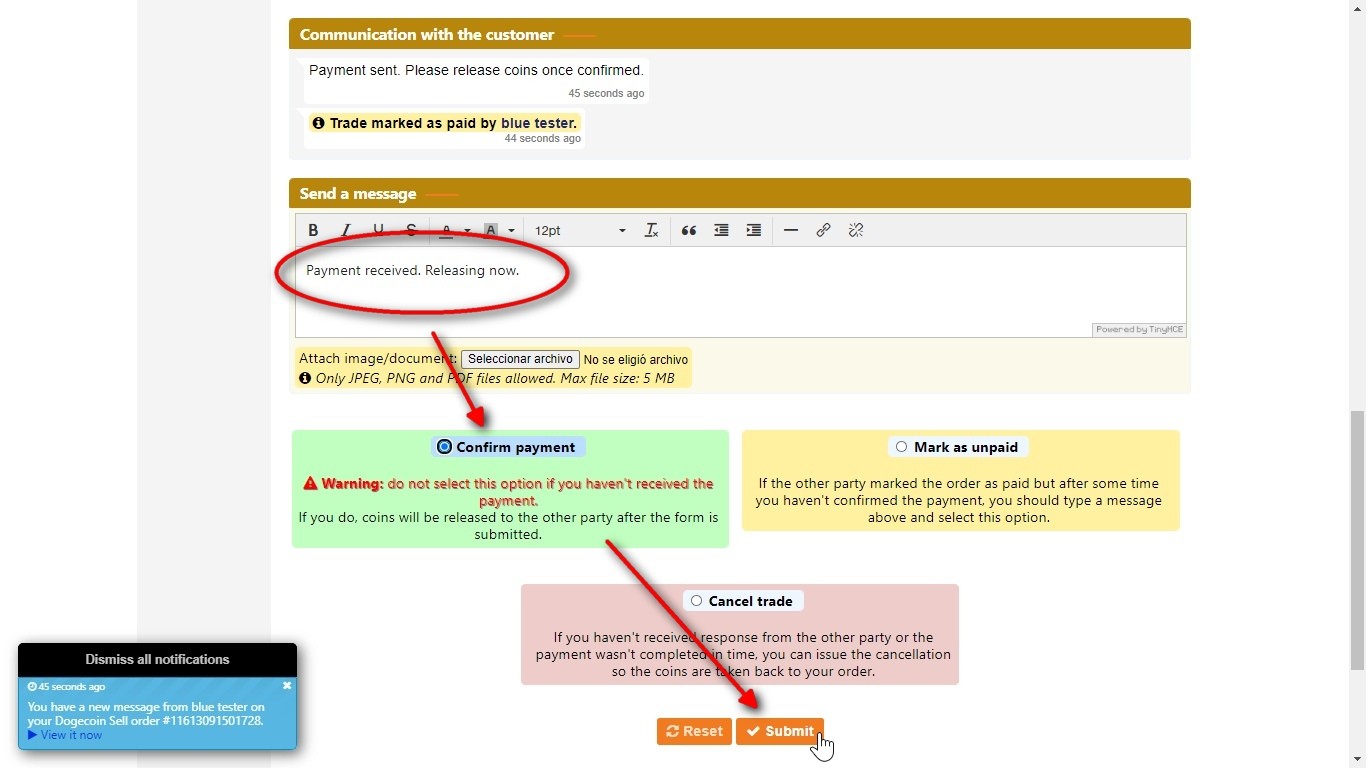 7. After confirming the payment, you cansee the transactions flagged as completed and the trade flagged as filled.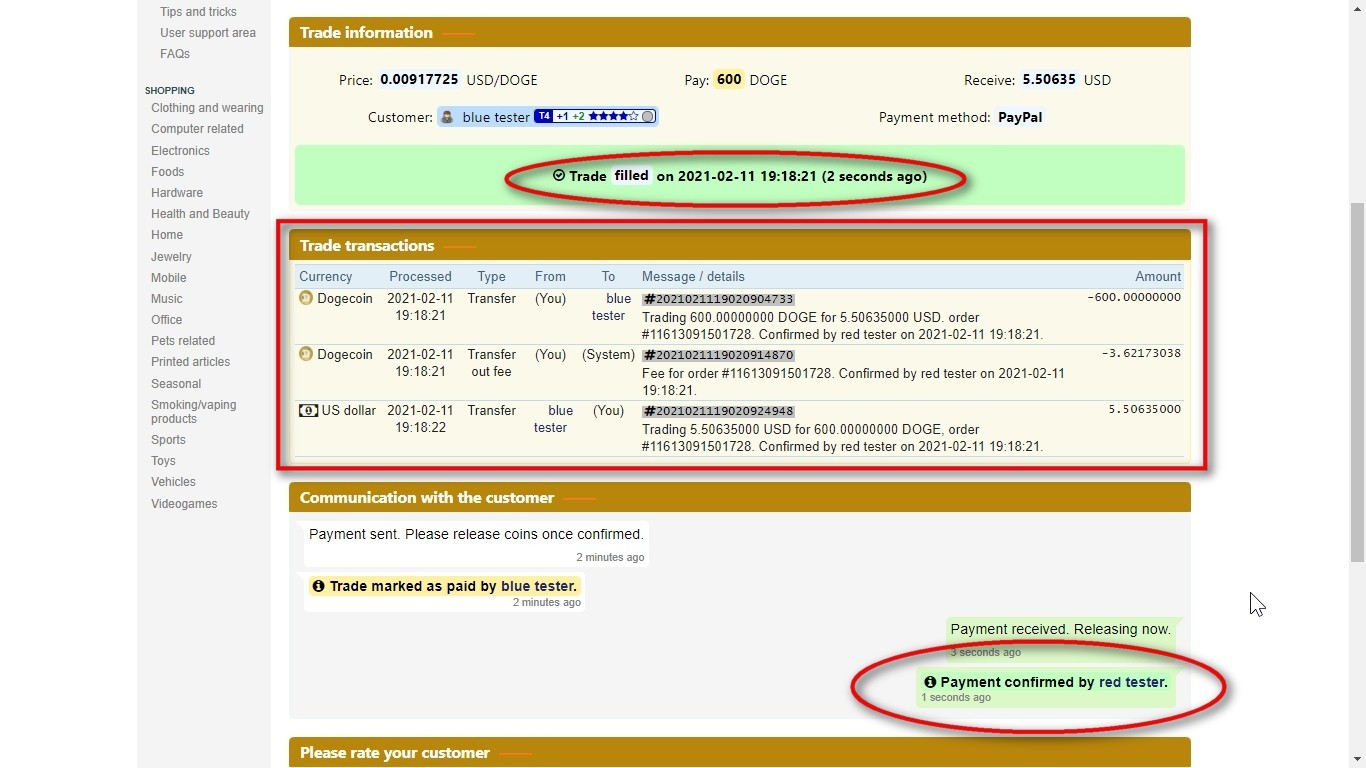 8. The customer is alos notified and they can see the transactions confirming the release of the assets being received.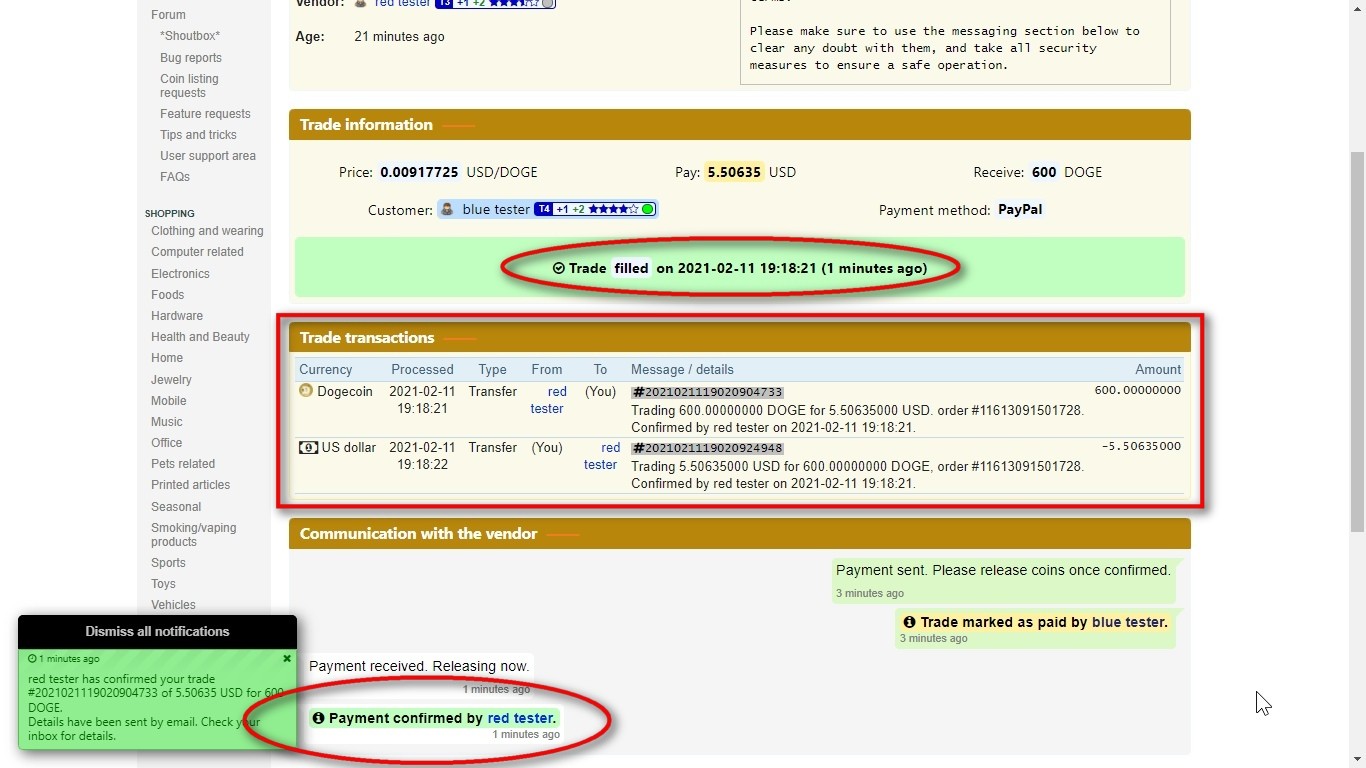 A word about geographical areas
As you might notice, crypto/fiat payment methods may require a geographical context. That means you need to specify a level from as wide as a country to as narrow as a city.
But if you want to use a widespread method like PayPal, you can still narrow the exposure down to your country, your region or your city by setting the geographical context to the payment method:
You need to be very specific when setting a geo context to an order: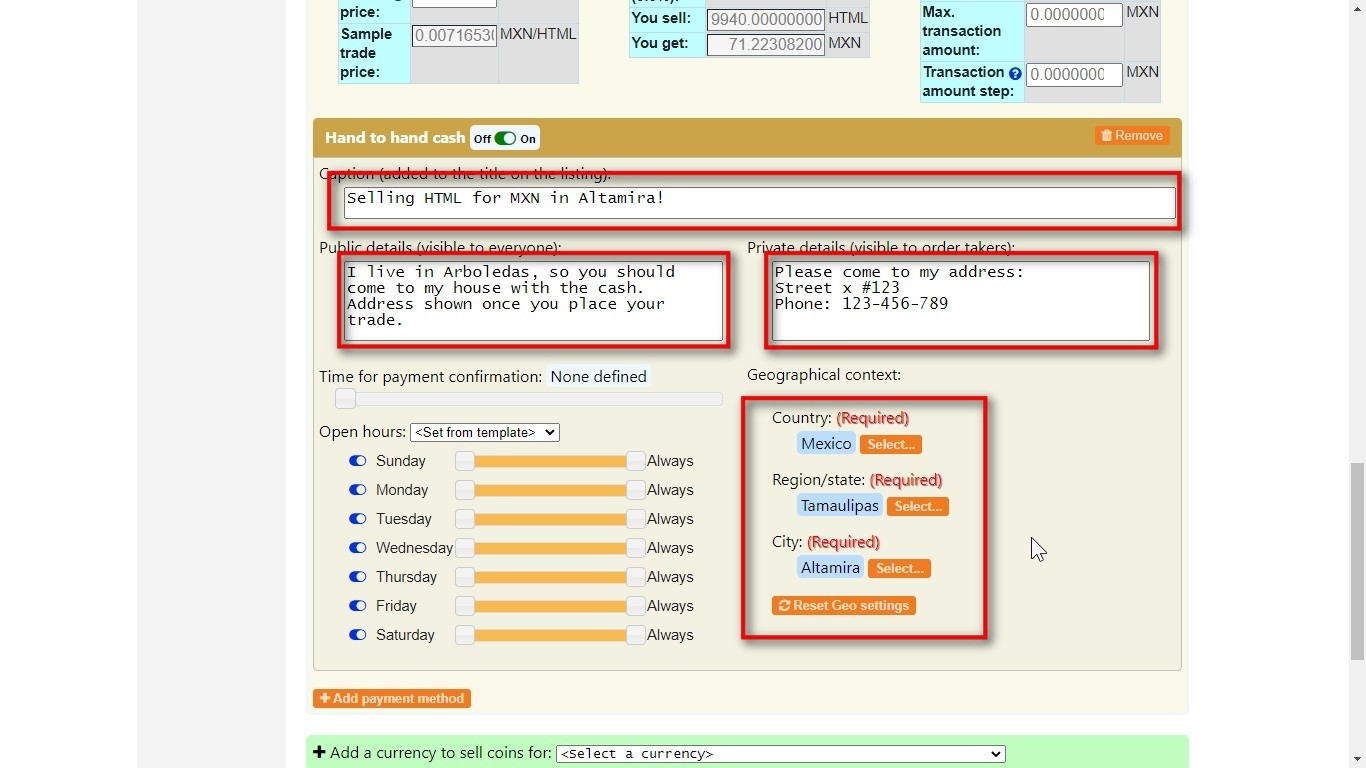 When someone with an IP address within the range comes by, they'll see your order: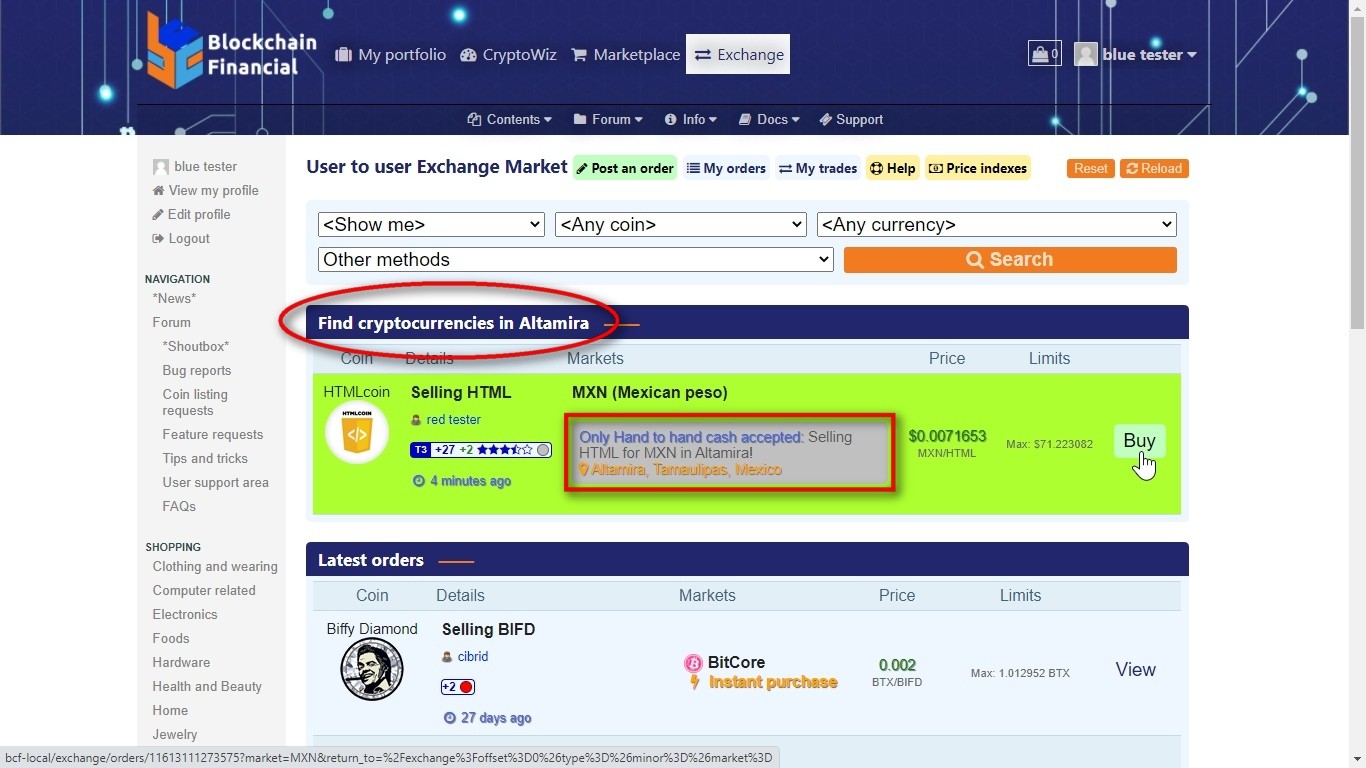 Geolocation is based on IP addresses. We have a database that is used for this purpose, and we update it frequently to offer accuracy with this feature.
Trader profiles and user ratings = trader flairs
You will notice that users that traded on the exchange will have a flair attached to their user names. That flair shows the next information:

The trader tier of the user (that's explained below).
The amount of crypto/crypto trades executed.
The amount of crypto/fiat trades executed.
The trader rating.
A semaphore indicating if the user is:

green

 if online,

gray

 if offline, or

red

 if unavailable.
The executed trades counts are updated automatically. The rating is calculated over the submitted user reviews. After a successful trade on fiat markets, both the vendor and the customer can rate the interaction with the other and post a review, then that information is being shown in several places:
You select the rating and type a comment as review: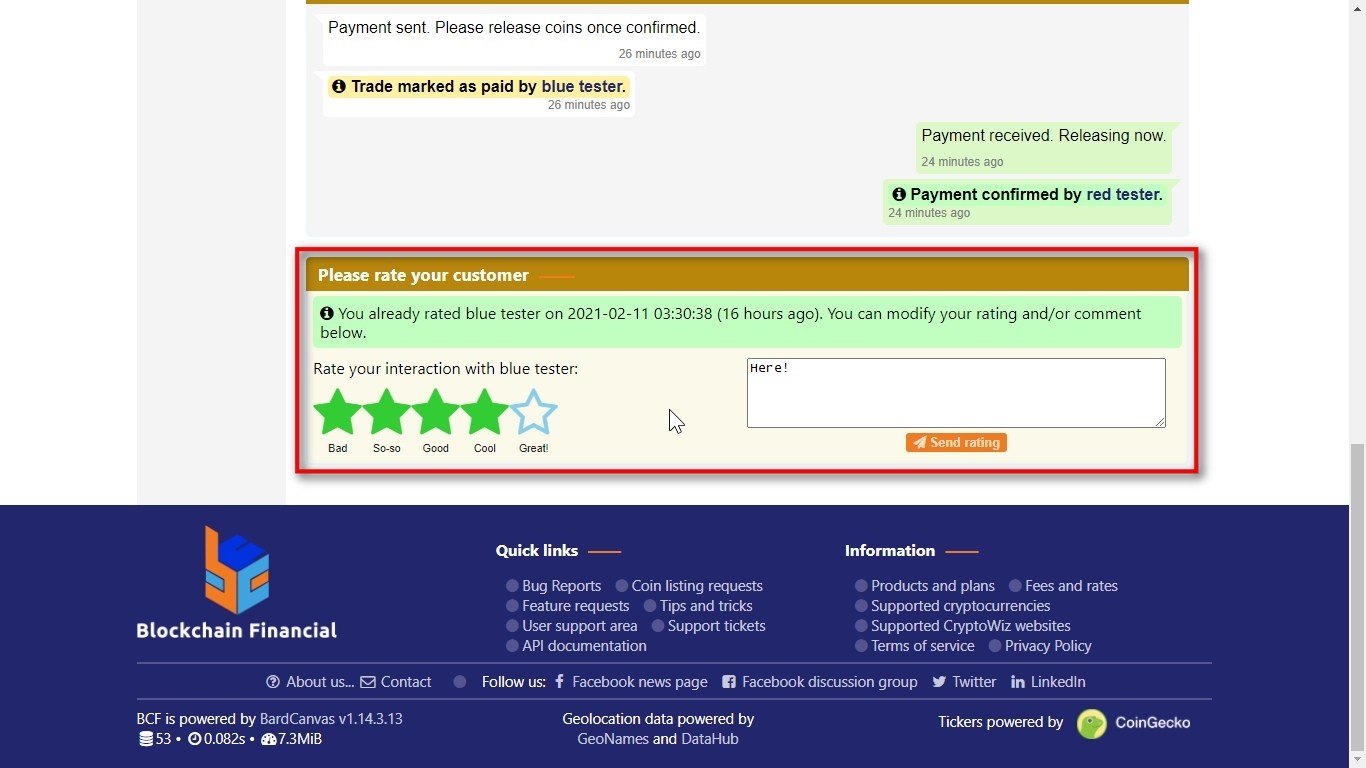 That among the other trader info is shown in the user profile: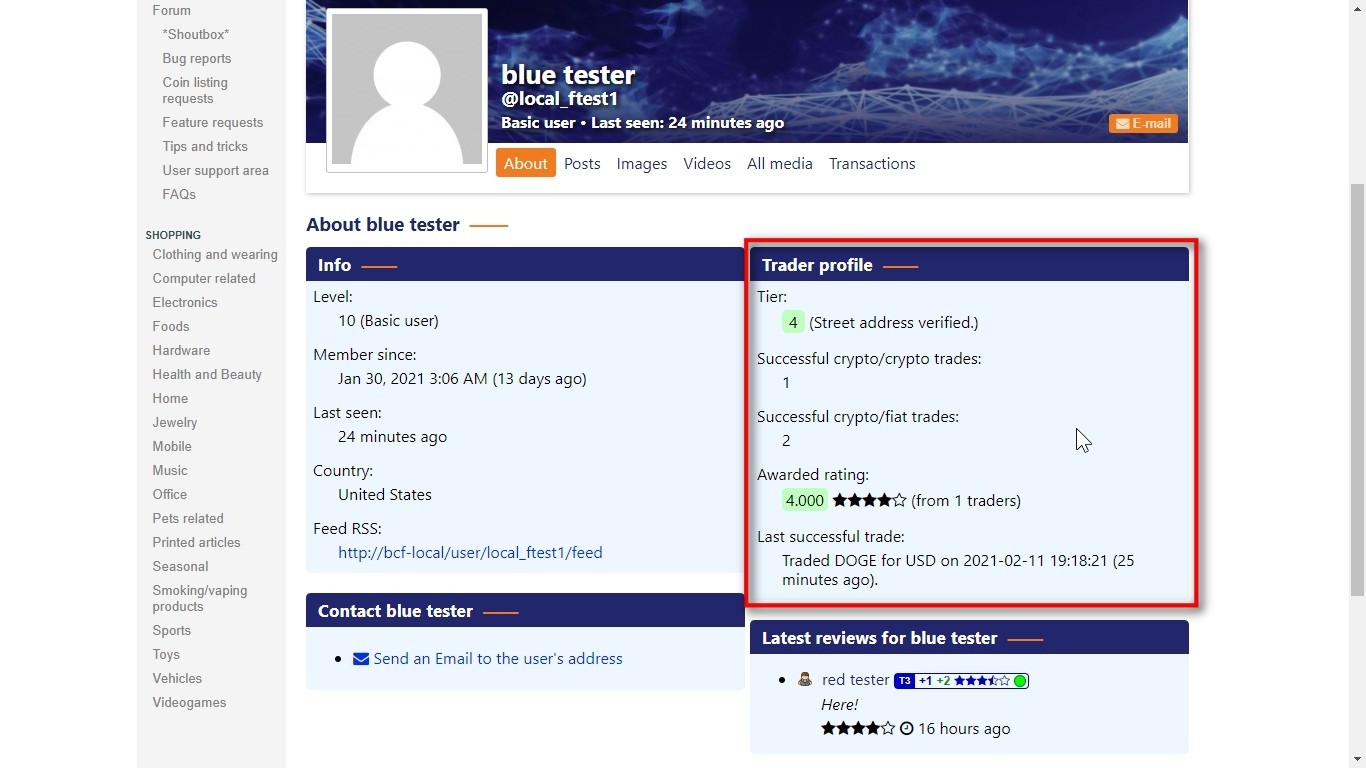 When you post trading orders, your trader profile is visible on the order page: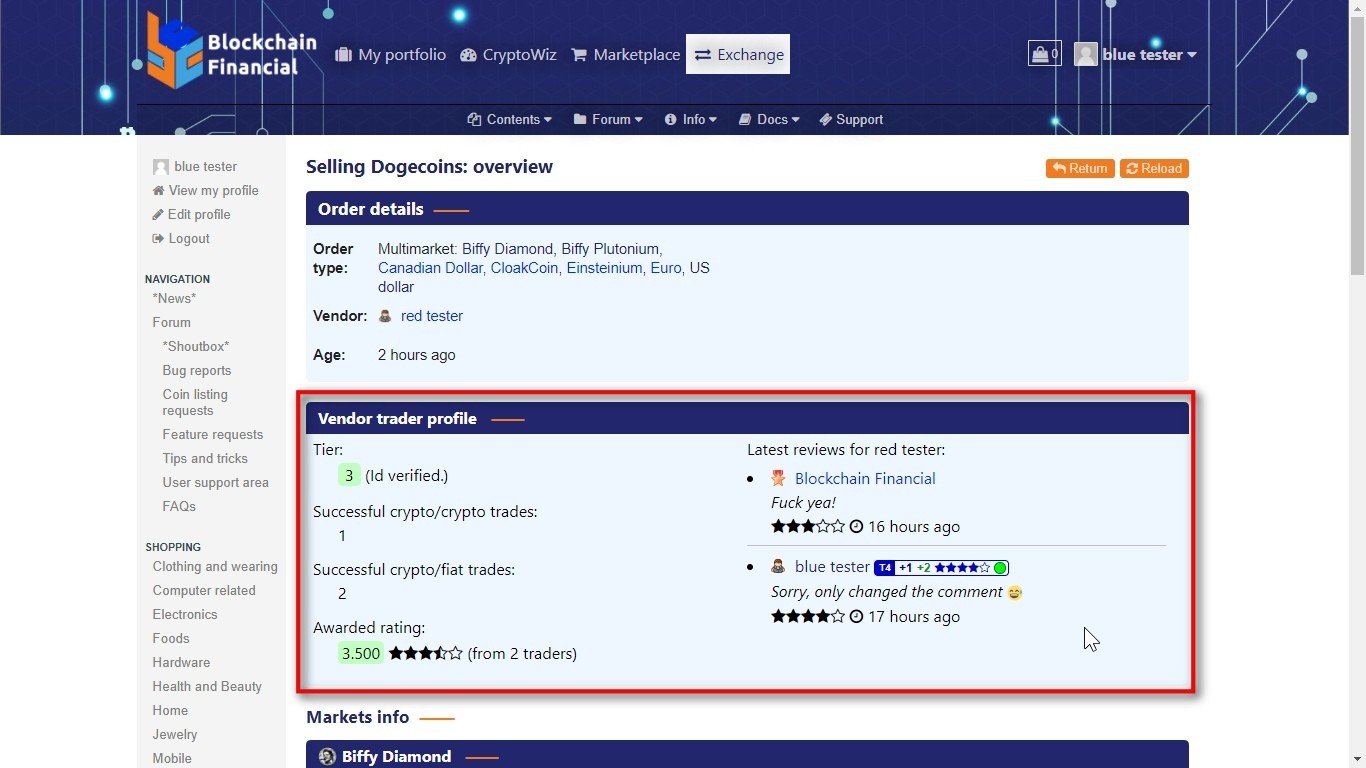 When someone takes one of your orders, you can see their trader profile in-trade: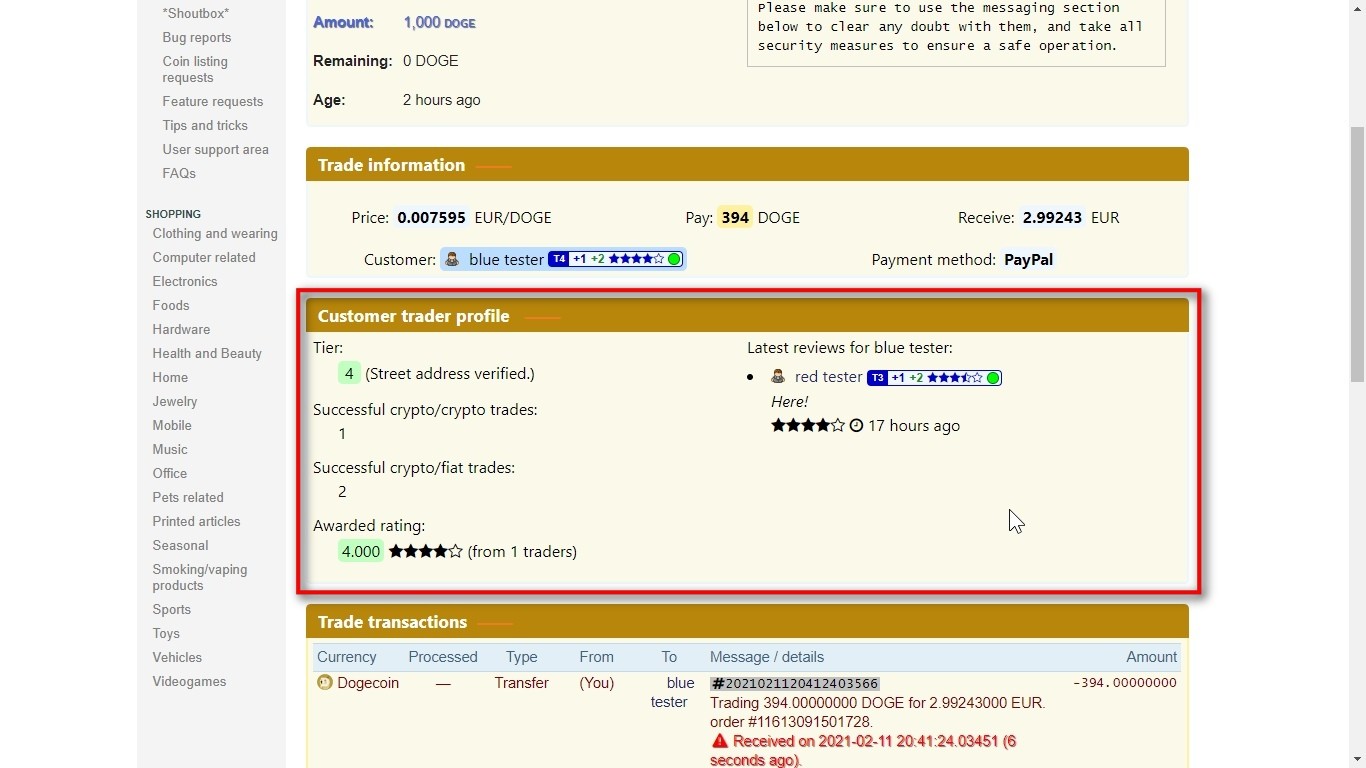 Once you rate a user, you can change your rating afterwards.
Complying with "Know Your Customer" regulations:
We went over the standard ways -what everyone else does- when sticking to regulations before we're asked to. So we made "trader tiers" for crypto/fiat traders:
|  Tier | Requirements | Monthly trading limit |
| --- | --- | --- |
| 0 | Email address verification: always default, since this requirement is met on registration. | $   500  |
|  1 | Two Factor authentication: it is enabled from the preferences page. | $1,000  |
|  2 | Cell phone number verification: validated through SMS. | $2,000  |
|  3 | Id photo or scan: documents must be provided and verified by our staff. | $4,000  |
| 4 | Street address verification: proof must be uploaded and verified by our staff. | $8,000 |
The limit is calculated over the USD value of trading volume on crypto/fiat trades only. It is calculated over calendar month.
Now, we are enforcing these requirements for two reasons:
To

comply

with any existing regulations on money laundering and law enforcing, and, most important,
Have a file to look for information

in case of frauds

.
More to come afterwards
We're going to take a few days to manually check everything after deployment and fix any issue we find. In the meantime, please take a look at the new features and get familiar with the changes.
If you have doubts or can't understand something, please post a help request on our forum or send us a message through our contact page.
Do you know you can set a label to Blockchain Financial?

Blockchain Financial has a system that lets users stick labels to other users as an alternative way to show their appreciation or discontent for the contents of their posts or their attitude when commenting.
Do you want to be part of the elite? Become a valuable contributor!