AutoCash helps business of all sizes that sell goods or services accepting payments in cryptos from their customers and getting fiat in return using an electronic payment gateway like PayPal, Venmo and others.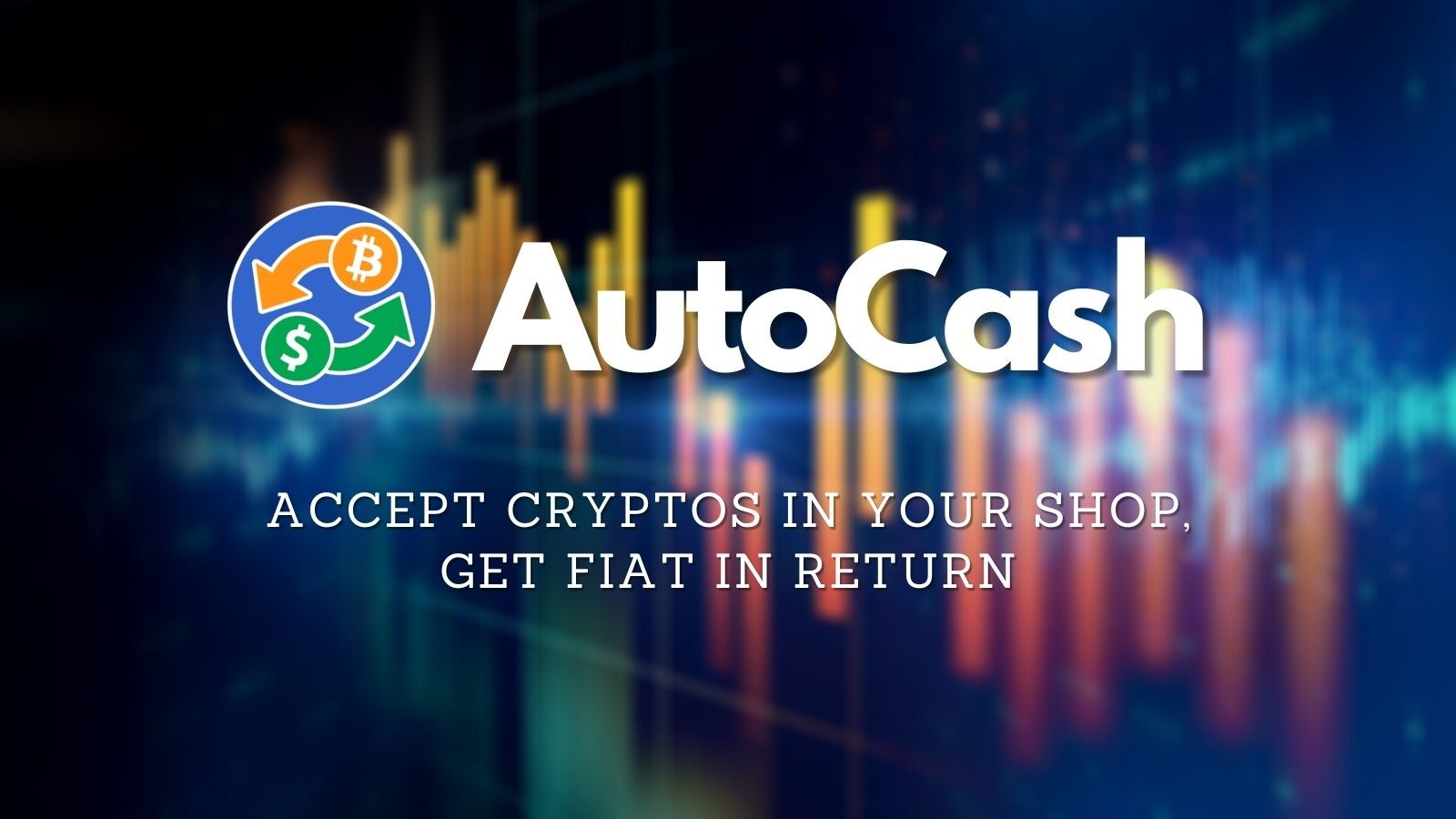 Do you want to buy cryptos? Offer your merchant services to the shops near you:
You register an AutoCash account here at BCF and make plans that include which cryptos you accept, your fees, the payment gateways you can use to send cash to shop owners (E.G. PayPal and Venmo) and how often you can do it.
You'll get your own AutoCash space, so you can give your URL to all shops around you that are willing to accept your plans. They sign up to get their own dashboard and start accepting payments.
You define the fee you'll charge to your clients. BCF commission will be 10% of your fee.
Do you have a shop? Accept cryptos from your customers:
You get the AutoCash space from one of our merchants, select a plan to work on and request access. Once your access is granted, you get to your personalized dashboard.
AutoCash merchants define their fees, and they can be as low as 0.01% over crypto deposits from your customers.
When a customer goes to your shop and you offer them payments with cryptos, you enter the fiat amount in your dashboard, pick the crypto that they will use to pay and show them a QR code they can scan with the wallet in their phone.
Once the transfer is received in BCF, your merchant is notified so they transfer the fiat amount minus their fee through their supported gateways.
How does it work?
Setting up:

You register as an AutoCash merchant and create your own space, using PayPal to send cash to shops.
You go out to shops near you and offer your services to them, giving them your AutoCash Space URL to register.
They get to your space, register and get your approval. They'll get their dashboard URL in your space.
Operating (the shop side):

A customer comes to the shop and grabs some goods. The cashier offers payments accepted in cryptos.
The customer decides to pay with one of the supported coins, E.G. DOGE.
The cashier enters the amount of USD in their dashboard and selects DOGE as the transaction coin. Then the DOGE amount to pay is shown with a QR code of the deposit address.
The customer sends the DOGE to the specified address.
Trading (the merchant side):

The DOGE deposit kicks in the merchant's DOGE address at BCF.
A notification is sent back to the shop so they can release the goods to the customer.
The merchant fee is applied to the gross deposit.
The remaining amount (net deposited) is converted to USD and a notification is sent to the merchant with all details (gross deposit, deducted fee, net deposit and its USD value).
The merchant logins to PayPal and transfers the USD value of the DOGE received (fee deducted) to the shop.
How much does it cost?
For merchants: BCF will charge you 10% of your income (not the gross deposits), E.G.:

Your transaction fee for shop deposits is 3% and you receive 100 DOGE.
Your income will be 3 DOGE.
We charge you 10% over those 3 DOGE, that is, 0.3 DOGE.
Your net income for this transaction will be 2.7 DOGE.
For shops owners:

For the cryptos paid by your customers, you'll pay the fee defined by the merchant.
For FIAT, you'll pay to the payment gateway any transaction fees they charge you for receiving cash.
Sample:

A customer pays you $100 in DOGE. DOGE/USD market price is set to $0.01 USD/DOGE.
The customer will pay 10,000 DOGE.
The merchant fee is 3%. The 10,000 DOGE deposit kicks in and 300 DOGE are deducted.
The net amount, 9,700 DOGE, is converted back to USD: $97.
The merchant sends you $97 over PayPal.
When you receive the cash, PayPal charges you $0.3 + 2.9%: $3.11 USD.
You end up receiving $94.89.
For shop customers: you might pay a premium set by the shop if they decide to. E.G.:

The shop owner decides to apply a 3% premium to dodge PayPal transaction fees when cashing out.
You get goods for $100 USD and tell the cashier you'll pay in DOGE.
The USD is converted to DOGE, then the premium is added.
You'll end up paying $103.
Are you ready for AutoCash?