One of the big features we had in mind during the definitions stage of Blockchain Financial was offering an exchange service with a twist.
The time has come to deliver the first half of that service.
Meet our exchange
The online trading business has heavy competition, but most online exchanges assume everyone has some knowledge or they have huge amounts of money to risk.
People who has a few coins worth a handful of money that don't know anything about trading and might get a piece of their stack being cut by transaction fees is left unchecked.
If you're one of them, we welcome you. And if you're a pro, you're included.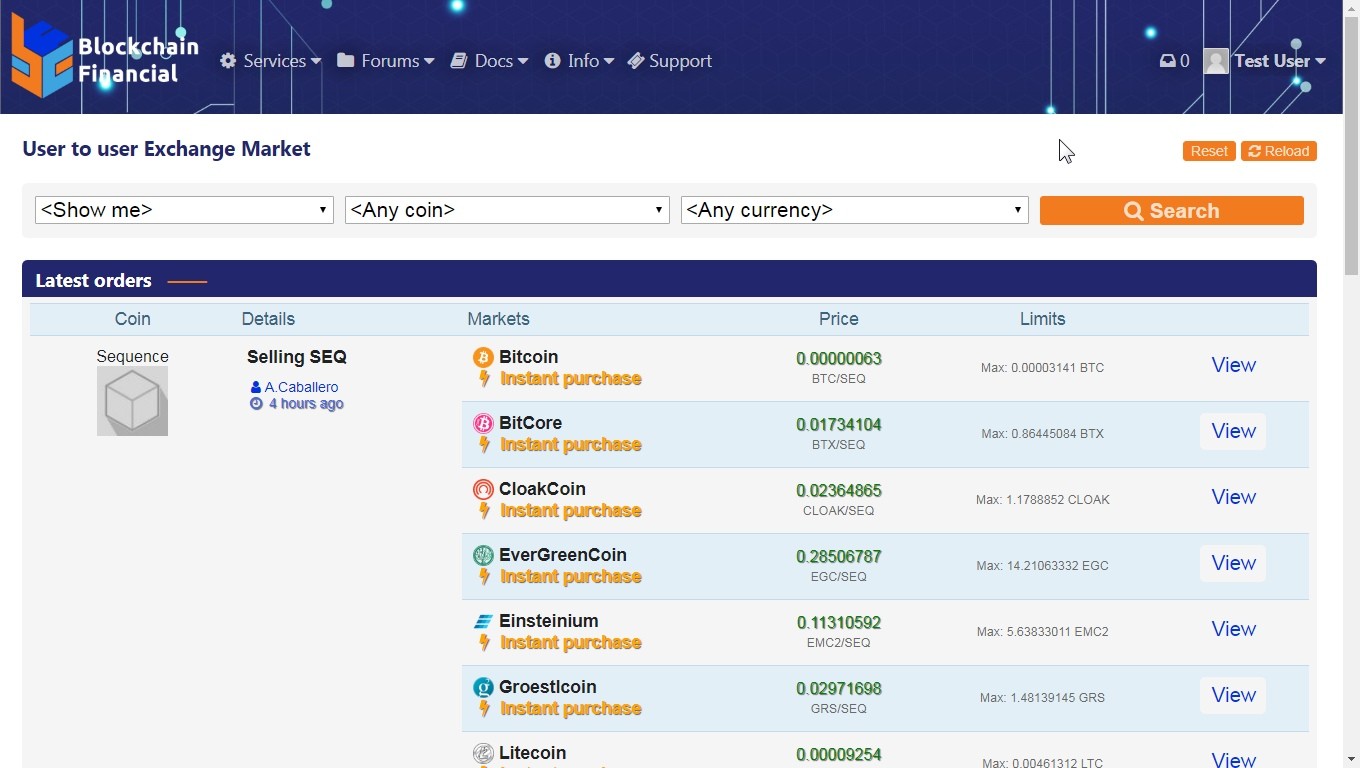 The features
Simple interface: we made the exchange thinking on inexperienced traders, and with that in mind, we made our best effort.


There are no "major" markets: all coins are traded against all coins. Fair and square.


Full price control: you can set a fixed price like on normal exchanges or rely on the market index, even specifying a % above or below it.


Multimarket orders: on standard exchanges, if you want to sell a coin on two markets, you need to split your stash.
Not here. Create a sell order and bind it to more than one market and let it go.


Low fees: right now we're setting a 0.3% trading fee for order makers. Order takers don't pay a thing.
Beta has started
During the next days, a handful of people will help us testing the engine so we can squash any hidden bugs.
Afterwards, an open beta will be launched. Then, when we're ready, we'll announce the final release.
What happens next?
The engine is set for crypto/crypto trading, but it will support crypto/fiat transactions using an escrow account.
Crypto/fiat trading added on February 12, 2021 Check news article.
We're also preparing an API so trading bots can be hooked up.
API added on September 3, 2019. Check documentation.
Being that said, we're going to work with the guys of Growers Intl. to have GrowBot enabled a couple of days after publishing this article.
Implemented on Growbot in September 4, 2019. Check news article on Grower Tools.
Don't forget to follow us on our social media channels to get notifications about our progress!
Do you know you can set a label to Blockchain Financial?

Blockchain Financial has a system that lets users stick labels to other users as an alternative way to show their appreciation or discontent for the contents of their posts or their attitude when commenting.
Do you want to be part of the elite? Become a valuable contributor!