The Onix team released their web wallet, and you can delegate your coins to either our shrine or the Onix Team's shrine while keeping your private key!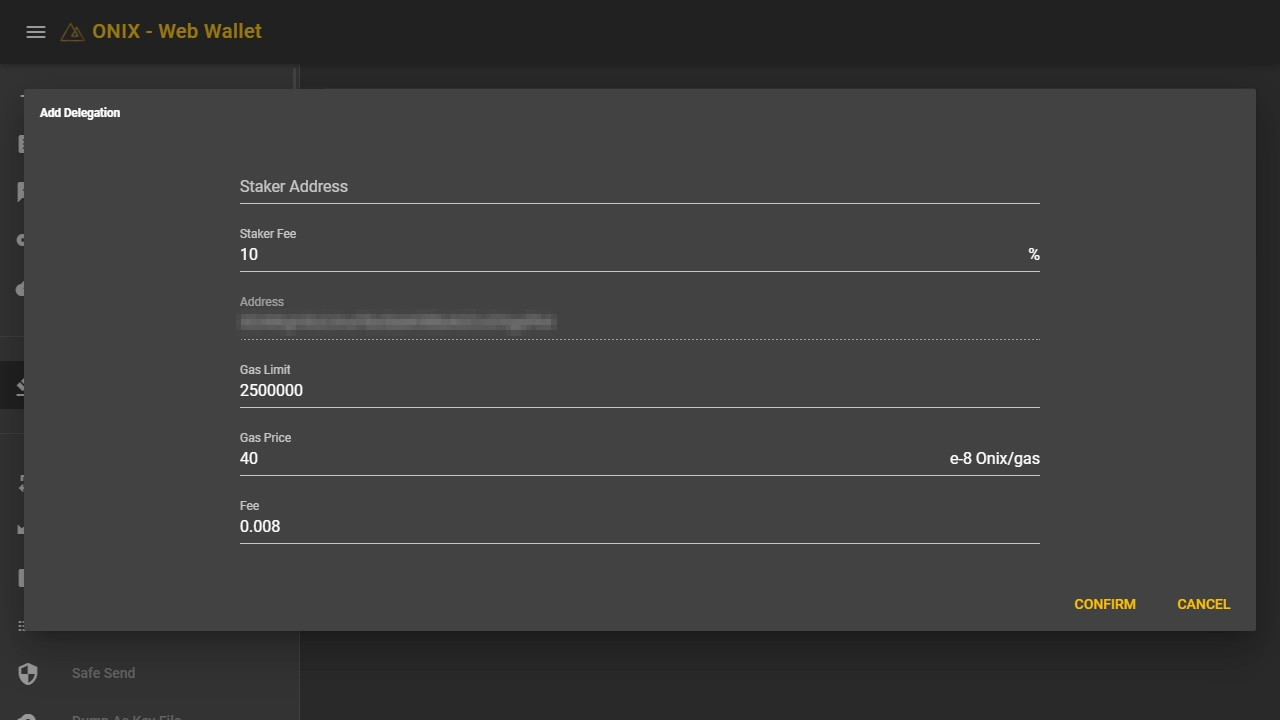 The Onix web wallet is the safest way to keep control of your coins -while keeping the private key- when you don't have a desktop computer.
You can also delegate your holdings to any of the Onix shrines and earn passive income!
We're starting a giveaway to celebrate
To celebrate this addition, we decided to throw a giveaway for our users that have been holding their ONIX in our wallet. Please follow the next steps to participate:
Create your own Onix web wallet at https://wallet.onixcoin.io


Withdraw your ONIX from our wallet to your fresh new Onix web wallet.


Wait for the transfer to kick in your web wallet.


Delegate your web wallet address to any of the available shrines:

The BCF shrine: onixcoin.io/bcf-shrine • Contract address: XG6ncE5tGg72CRHKgn3PHpCAchWY21qWuK
The Onix Team's shrine: onixcoin.io/onix-shrine • Contract address: XBnfbZQLQagWkzWf5StYbRP5E7Q6YYsXMy
Important considerations:

The shrines won't accept delegations below 10 ONIX

. There's a threshold to dodge transaction fees, but if possible, send at least 11 ONIX to make sure you won't get excluded.
The staker fee must be set to 100% as described in the shrine details linked above.



Use the comments system below and post a screenshot of your delegation. Once we confirm it, we will tip you according to the next rules:

If you delegated less than 100 ONIX, we'll tip you 10 ONIX.
If you delegated between 100 and 1000 ONIX, we'll tip you 10% of the amount (10 to 100 ONIX).
If you delegated more than 1000 ONIX, we'll tip you 100 ONIX.
Limitations and penalties for cheaters
Once you post the screenshot required on step 5 above, it will take us some hours to verify. Please be patient and wait for a reply and/or your tip in the same comment.
We'll only tip users that logged in and used their BCF account to post the screenshot. Guests will be ignored.
If we can't track the withdrawal from our wallet to your web wallet, you won't be tipped.
If you send a small portion of your holdings from your BCF account and get tipped, then you make further withdrawals, you won't be tipped again.
Only one account and web wallet will be considered for rewards. If you have multiple BCF accounts and pretend to associate a single web wallet, you'll be tipped only once.
If you create multiple web wallets and pretend to associate them all with a single BCF account, you'll also be tipped only once.
If you create multiple BCF accounts and associate them with multiple web wallets, you won't be tipped.
Make no mistake: cheaters will have their accounts disabled, and we have mechanisms in place to detect bogus accounts and clones.
These rules are subject to change without notice.
If you have any doubts, don't hesitate on using the comments system below to ask us.
Do you know you can set a label to Blockchain Financial?

Blockchain Financial has a system that lets users stick labels to other users as an alternative way to show their appreciation or discontent for the contents of their posts or their attitude when commenting.
Do you want to be part of the elite? Become a valuable contributor!