We've been working hand in hand with the HTMLcoin team to bring an exciting product to everyone in the cryptocurrencies ecosystem: Libra.Codes.
Deploy and mint your tokens in the HTMLcoin network for free
Why pay hundreds of dollars to deploy and mint NFTs when you can do it for free on a fast and reliable network?
You can even dodge the technical difficulties involved in creating your NFTs by making them at Libra.Codes:
No need to learn how to code smart contracts.
No need to use complex tools to deploy them on a blockchain.
No need to spend a lot of money in gas for minting.
At Libra.Codes you just upload the file you want to tokenize, enter details, choose what to do with it and submit the form. After one minute or two you'll get everything done for you.
A lot of popular file formats are supported
You can upload virtually any file to tokenize:
An image: Static or animated GIF, PNG or JPEG file.
A video: MOV, AVI, MPEG, WMV or MKV video file.
An audio file: MP3, M4A, FLAC, WAV, WMA, AAC or OGG file.
A document: Text, Word, Excel, PowerPoint, XPS, ODT or PDF file.
An application package: Single executable or installer for Windows, Mac, Android or Linux.
Anything else: A file or a compressed folder including multiple files.
Push your freshly created NFTs to a growing marketplace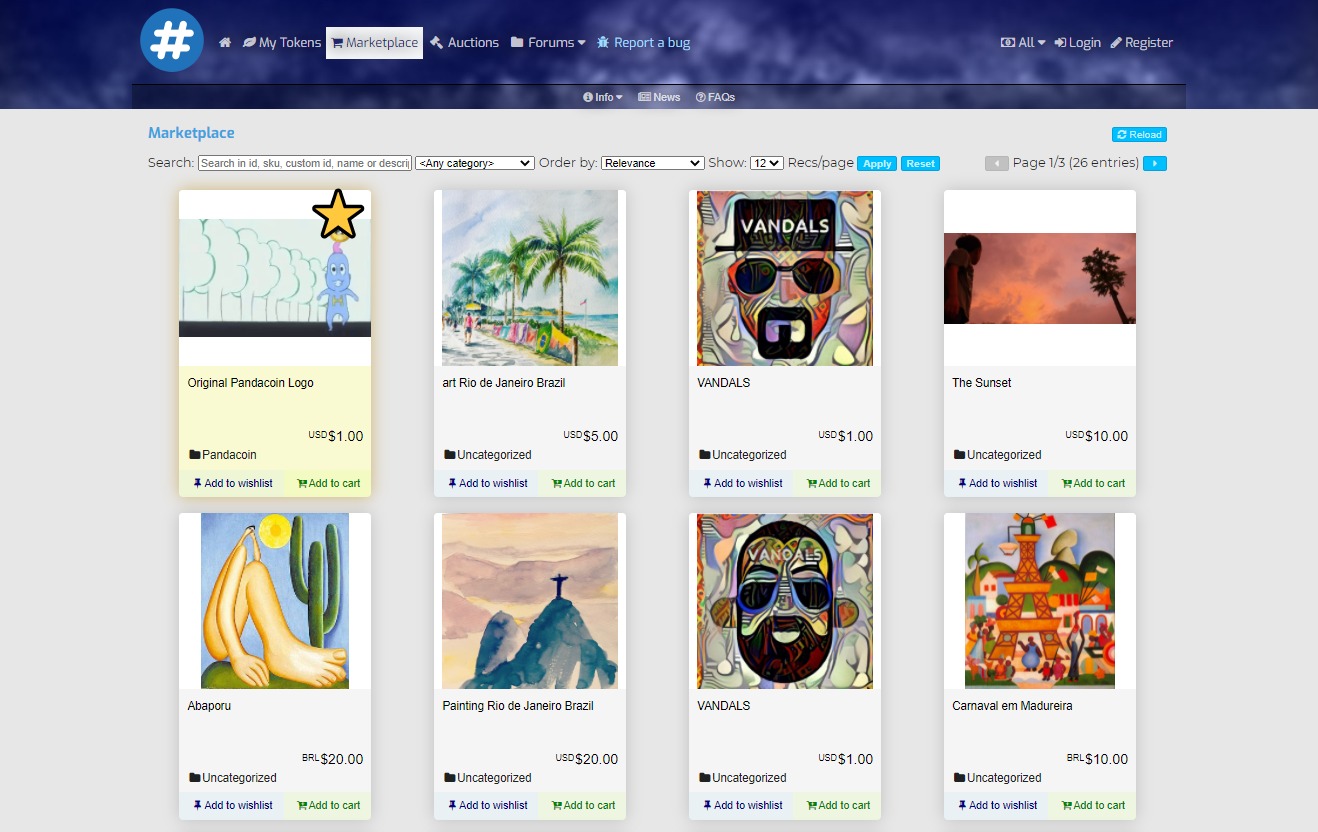 When you create a token you can opt to push it automatically to the Libra.Codes marketplace. You just set the price in the fiat currency of your own (USD, CAD, EUR and others), specify which cryptocurrencies you want to accept from buyers and that's all. Libra.Codes is interfaced directly with our Portfolio and CryptoWiz, so you won't have to deal with manual creation of accounts and buttons.
Start auctions for selling your items to the highest bidder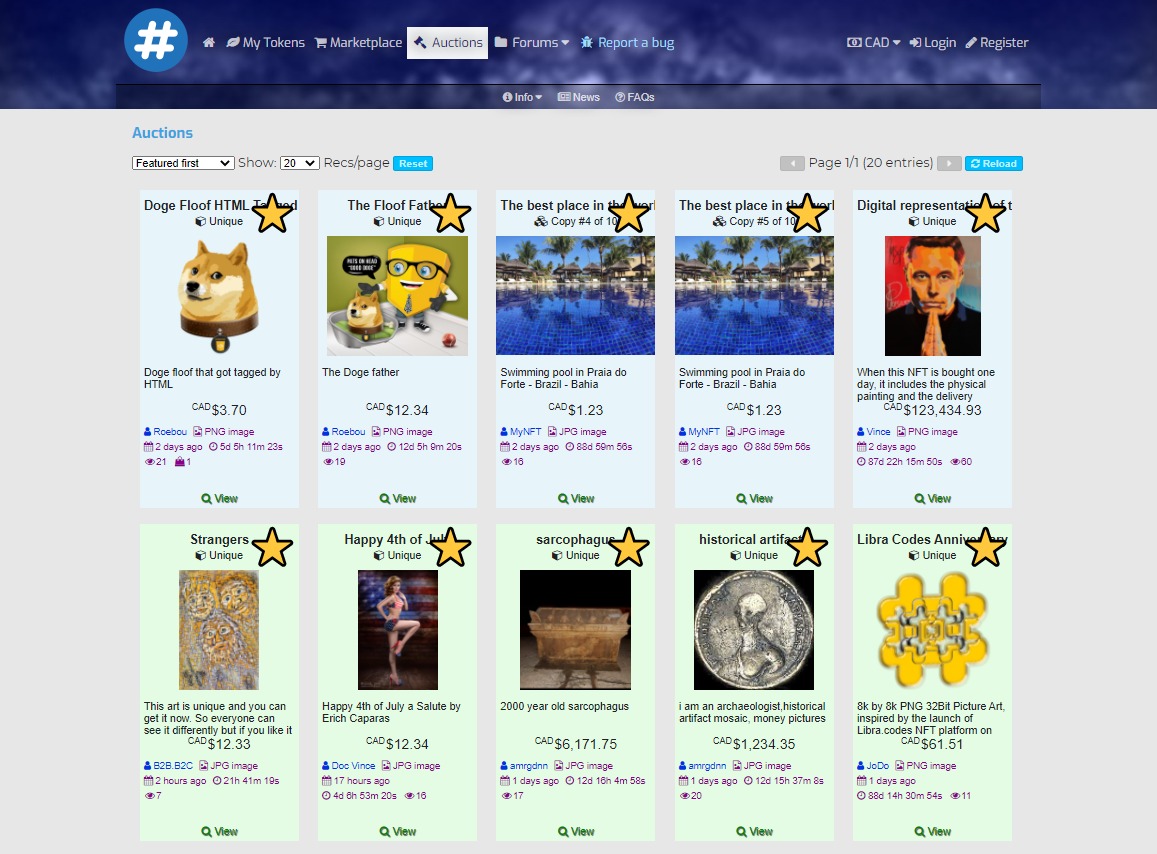 Libra.Codes has an auction center where you can push your NFTs immediately after creation, after buying them on the marketplace or an auction.
You can even resell them after acquisition.
All cryptocurrencies supported by Blockchain Financial can be used at Libra.Codes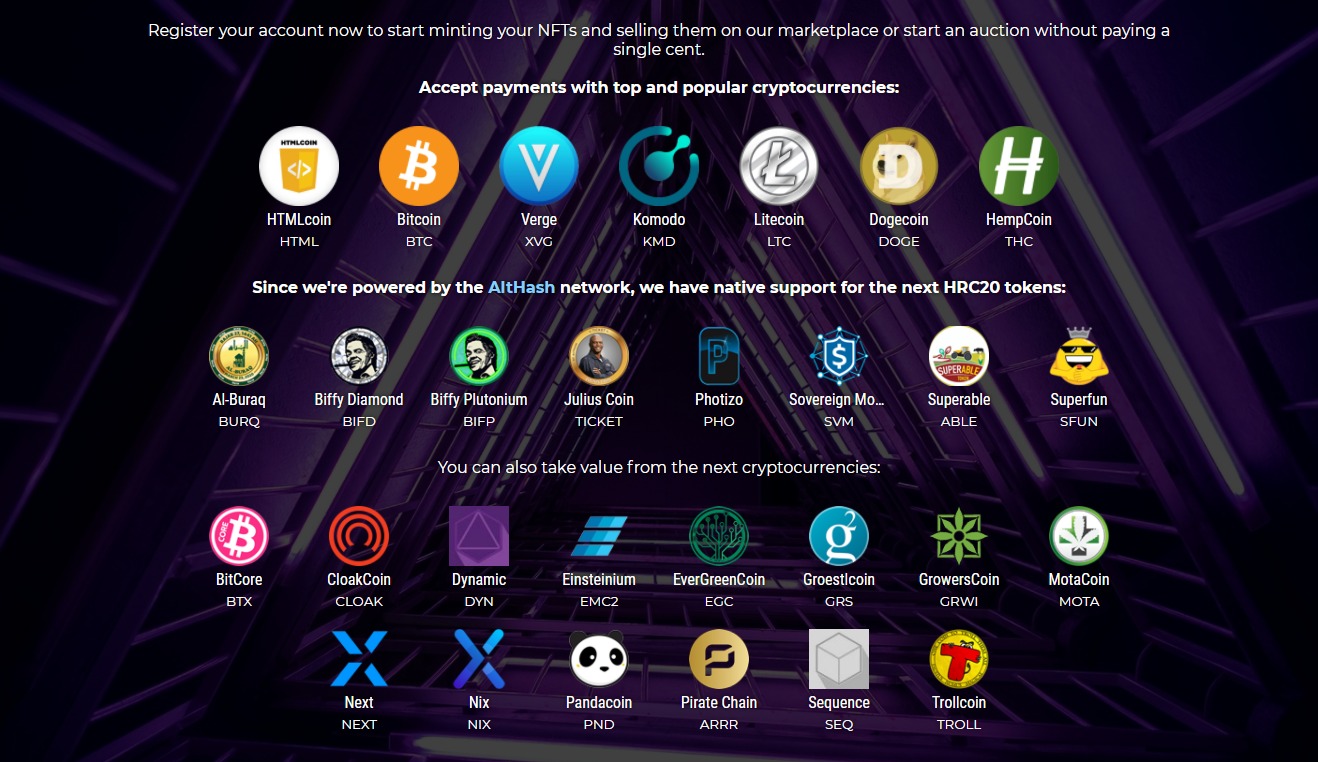 The Libra.Codes marketplace and the auctions center are tightly integrated into our systems, so all the cryptocurrencies supported by all our products are available for using them as payment for marketplace orders or auction bids.
When you buy a token from the marketplace, you'll pay directly from your BCF wallets to the seller's BCF wallets in the cryptos they've selected for payment.
If you're the seller, you'll pay the standard 0.2% transaction fee from us and Libra.Codes will deduct a 2% service fee.


For the auctions center, all bids are reserved by our escrow system, and when the auction ends, the highest bidder's coins are sent to the seller, and the other bidder's coins are returned to their wallets. This will ensure that the correct amount of coins goes to the correct person and the others are cleared.
As with the marketplace, the seller will pay the standard 0.2% transaction fee from us and Libra.Codes will deduct a 2% service fee.
You'll be able to withdraw your income any time from your portfolio here at BCF.
Important: when you create your account at Libra.Codes, make sure to use the same email you use here, or you might end up with more than one BCF account.
You own your NFTs, and you can withdraw them whenever you want.
Libra.Codes becomes the guardian of your tokens for as long as they're moved inside their systems (the marketplace, auctions, or you just sit them there).
Files are pushed to the IPFS network and pinned in the Libra.Codes IPFS servers for as long as needed.
But if you want to take them out to your desktop wallet, you can do it by paying a small withdrawal fee (one cent of a US dollar at the moment). You'll just need to find an IPFS pinning service to keep your NFTs alive after taking them out Libra.Codes, and you'll have a several days window for that.
More to come
Libra.Codes launched as open beta the past July 4th, but a lot more is coming soon. You should follow them on their social network channels to keep updated with the ongoing developments.
Blockchain Financial has the next label sticked since 5 months ago:

Nakamoto: A guy/gal that accidentally got famous. Nobody knows him/her but we love him/her.
Sticked by mingo2020 5 months ago • Source: Free Army of Crypto NFTs for 25 lucky users • Reason: N/A